Rogue Engineering E46 M3 Exhaust Features
The Rogue Engineering El Diablo is made to fit exactly like factory. Improved, updated specs!
Weighs only 30 lbs., 26 lbs. lighter than the factory muffler! (factory is 56 lbs.)
100% T-304 stainless steel construction and internals, 10% larger tubing than previous version!

New!

Fully mandrel bent tubing, no crimps or flattened areas

Mil-finished pipes and muffler, mirror polished stainless steel quad 80mm Club Sport tips!

New!

Full TIG welded construction, no lock seams or pinch welds.

Rogue Engineering logo tastefully stamped in the body of the muffler

Flow-through design does not create muffler ""hot spots"" found on chambered mufflers

Optimized tubing sizes and minimized bends maintain exhaust velocity without compromising necessary backpressure

Deep, throaty tone, without the drone.

Easy to install (compared to other systems in the market)

Will not change ground clearance
Will not void factory warranty
Will not affect emissions

No permanent modifications required for installation
Rogue Engineering has really out done themselves with probably the most developed and spectacular exhaust systems available for the E46 M3. Rogue Engineering has spent endless amount of time on research and development in order to create this masterpiece. With several patented ideas and world class engineers, this Rogue Engineering E46 M3 El Diablo Exhaust is like no other, and definitely deserves a second look.
Rogue Engineering is proud to introduce their E46 M3 El Diablo exhaust. A cursory glance at the exhaust easily shows how this exhaust excels in both performance while saving weight. However, a closer look will show the pure artistry of its construction and elements of unique design.
If you have any questions about this Rogue Engineering E46 M3 Exhaust please give us a call at 714-582-3330
Click on one of the Rogue Engineering E46 M3 Exhaust Videos Below:
Video 1, Start, Rev, Launch, Driveby (El Diablo with RE Rasp Pipe) [6.9MB]
Video 2, Launching (El Diablo with RE Rasp Pipe) [5.4MB]
Video 3, Start, Rev (El Diablo with RE Rasp Pipe) [5.2MB]
Customer Reviews:

For starters, bought the exhaust from Jurrian@ModBargains.com, who was helpful in making my decision and hooked it up a bit with the price. Exhaust shipped quickly and showed up at my door un-damaged (though the box had taken a bit of a beating. The exhaust was packaged well with lots of bubble wrap.

Install:
Installed the exhaust myself with the help of a co-worker and his lift. Although I have not done much work on my cars in the past, this was my first time using a lift and my god was it so much better than working on jack stands. I really would not want to do this on stands, for reasons I will get to later.

I followed the DIY from Klangford which was very helpful. I found that I didn't need to use the 2 3"" extensions with a U-Joint in the middle to get at the rear most, driver's side exhaust hanger bolt. Instead was able to get to it just using a single 3"" extension, a deep well and tucked the wrench up under the body work. Was slow work, but got it eventually. All the other bolts were easy as expected (only 28k miles and never been driven in the rain before I owned it definitely helped with minimizing the corrosion of the stock hardware)

Then came the difficult part, which was getting the damn exhaust off of the section 2. In the future I would definitely pull the diffuser, but after wrestling with it for a few minutes, we figured out that if we just rotated it down (reason why having the car high on the lift was nice), it came out.

Putting the Rogue On was a snap. All the bolts are much easier to get to, plus being so much lighter it was easier to maneuver. We had to do a little adjusting with the slotted holes on the hangers to get the tips to sit straight, but that was pretty easy. Now time to lower the car down.

Exhaust Review:
First off let me say, the construction of the exhaust is top notch. The TIG welds look really good and you can see the weld penetration very clearly. The tips also look amazing. So much more aggressive than the wimpy stockers. The double wall is great!

So we got the car on the ground, and I started it up, WHOA! this thing is deep and rumbly! At that point I was in QUITE a rush to get home as it had started to snow and there was ~1/2"" on the roads. Anyways, so I wasn't able to really get a good idea of what the exhaust sounded like on the drive home, but I can say, is that it was much louder and boomier than expected. I had the rear seats folded (so I could fit the stock), which I knew was adding to the volume. But Lets just say on that drive home it was boomy and drony!

Once I got home, I unloaded the stock, and went back out for another test drive, this time with the seats folded up. This made a HUGE difference. Although it was still boomy at around 2-2.5k rpm, it wasn't head ache inducing like it was with the seats down.

Luckily the weather has cleared up here in Oregon and dried out and have had some more seat time with the exhaust (and it has had some time to bed in). It has quieted down a bit at 2-2.5k but the drone/boom is still there, and gets way worse when you open the windows (especially the vents). Its definitely a bit obnoxious, but not a total deal breaker. On the highway cruising, you can hear it slightly, but a bit of music makes it go away, that is till you lay into the throttle and it gets REALLLY resonant. And I mean REALLLY loud. So really the jist of it is, this exhaust is not drone free as Rogue claims, but its not terrible.

When you get on it hard it sounds great though! I like being able to hear my exhaust now, rather than just engine noise! The tone at low RPM is really deep like I mentioned before, and as revs rise the rasp comes out. The rasp is louder than stock for sure, but it has a deepness to back it up unlike the tinny-ness of the stock exhaust. I was on the track in PDX here a bit today and the sound of the exhaust bouncing off the walls was AMAZING.

Conclusion:
So overall I am happy with my purchase, the exhaust looks great, sounds good at WOT and around town, but is overall louder than I was expecting. I may try to do something about the 2-2.5K resonance if that is possible. I don't want to kill all the rasp as I like it, but would definitely not mind getting some of the boomy-ness out of this system.
- billybobbovine@m3forum.net
The Creation of the Rogue Engineering E46 M3 El Diablo Exhaust
It's not like Rogue Engineering to rest on its laurels when it comes to development of any performance product. In fact, Rogue Engineering is typically the first to market a product in many instances. However, when it came to the E46 M3 exhaust, Rogue Engineering was definitely NOT the first ones on the block. By last count, there were already over 20 different companies offering exhausts for the E46 M3. Some companies even offer multiple selections (as if they couldn't make up their mind which was best!).
After listening and installing countless aftermarket exhausts in Rogue Engineering's own facility, they felt they had heard and seen enough of the good, bad and very cheezy. Rogue Engineering recognized that most E46 M3 owners had very specific requirements to meet that they found in other exhausts out there. What you see here is the culmination is the best features of many of the exhaust systems found today, at an affordable price with the performance you come to expect from a Rogue Engineering product.
If you have any questions about this Rogue Engineering E46 M3 Exhaust please give us a call at 714-582-3330
Rogue Engineering E46 M3 Exhaust Performance Gains
Equipped with optional equipment, your E46 M3 can see significant power gains with the El Diablo and Rasp Pipe. By bolting on headers, intake, and software, combined with the a Rasp Pipe and El Diablo exhaust, consistent power gains were achieved without dips of hp or torque. More gains could be expected if the car was is with 93 octane gasoline. Individual results will always vary slightly from vehicle to vehicle
| | |
| --- | --- |
| Dyno runs performed with 91 octane gas. Results are expected to be higher with 93 octane. | Dyno runs performed with 91 octane gas. Results are expected to be higher with 93 octane |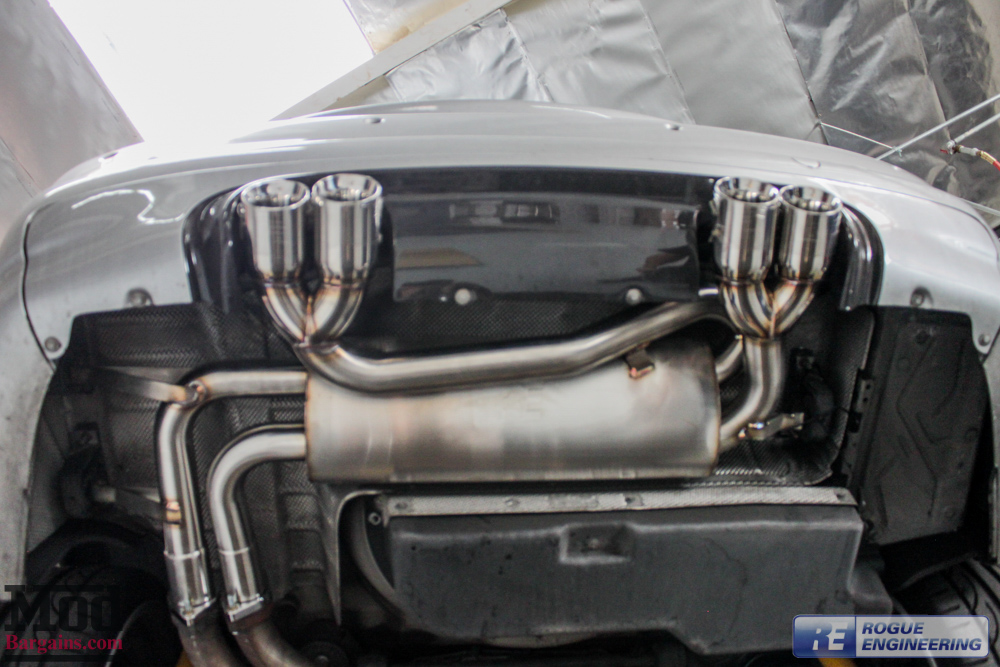 What makes the Rogue Engineering E46 M3 Exhaust Better then the rest:
Much development was spent to optimize the El Diablo exhaust system. To understand the improvements, it is important to see how a stock exhaust functions.
The image below shows a stock exhaust, and the highlighted ""chamber"" which exhaust gases flow. After these gases collect in the chamber, they exit through the exhaust tips. This chambered collection area allow for backpressure to build, important for naturally aspirated vehicles at lower RPMs. The problem with this design (and other exhausts designed with this feature), is that flow is ultimately impeded at higher RPMs. This translates to adequate performance at the lower RPMs and compromised flow at higher RPMs.
If you have any questions about this Rogue Engineering E46 M3 Exhaust please give us a call at 714-582-3330
| | |
| --- | --- |
| Fully Burnt 'BLUE' titanium tips NO longer available | |
What makes El Diablo different is that it is a true ""flow through"" exhaust system. There are no design elements to slow down the exhaust gases when they speed up with higher RPMs. Part of the challenge of this design is optimizing tubing diameters to allow for adequate backpressure while preventing faster exhaust flow from being blocked or slowed. If you build a system with tubing diameters that are too larger, it results in an exhaust with poor street performance. Tubing diameters that are too small will restrict higher RPMs. The key is a balance, all while producing an exhaust that has a nice deep, mellow tone (a function of muffler size, perforated tubing size, and perforation size). With El Diablo, we have met all of our design requirements.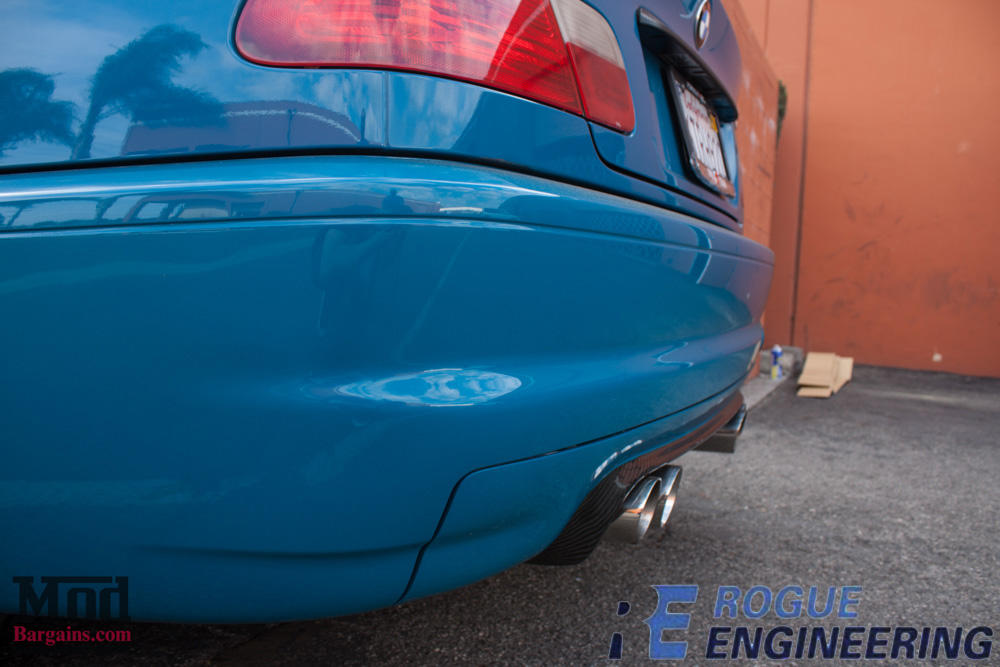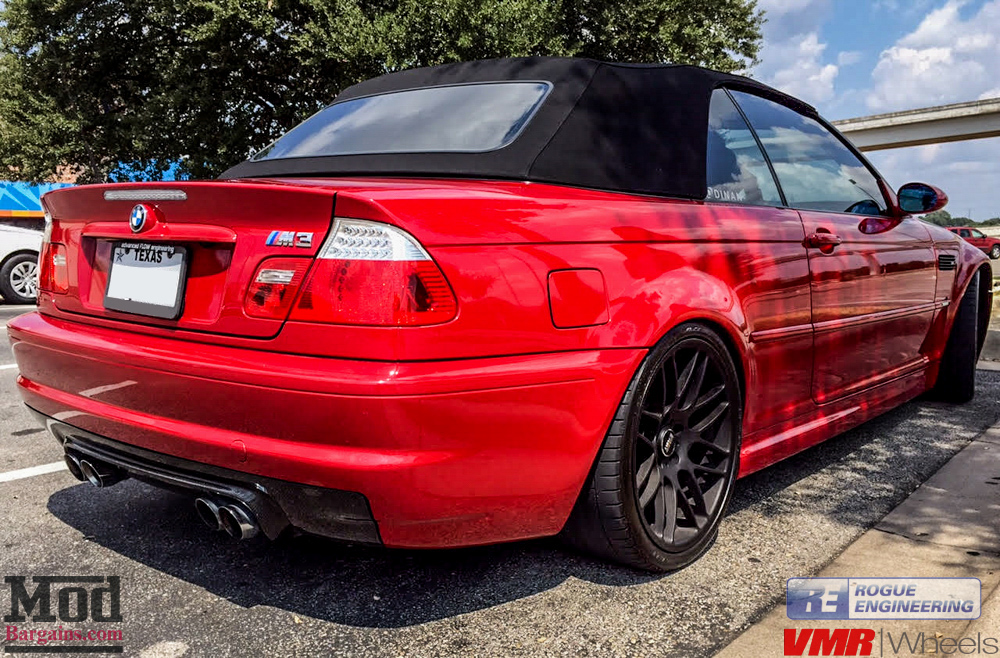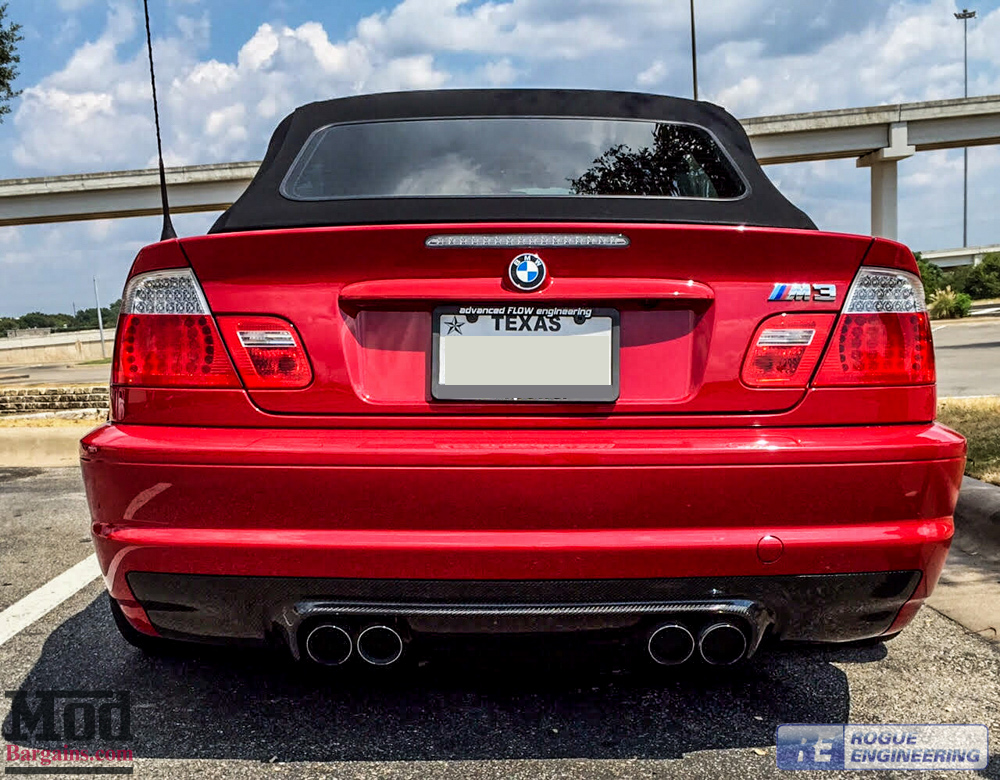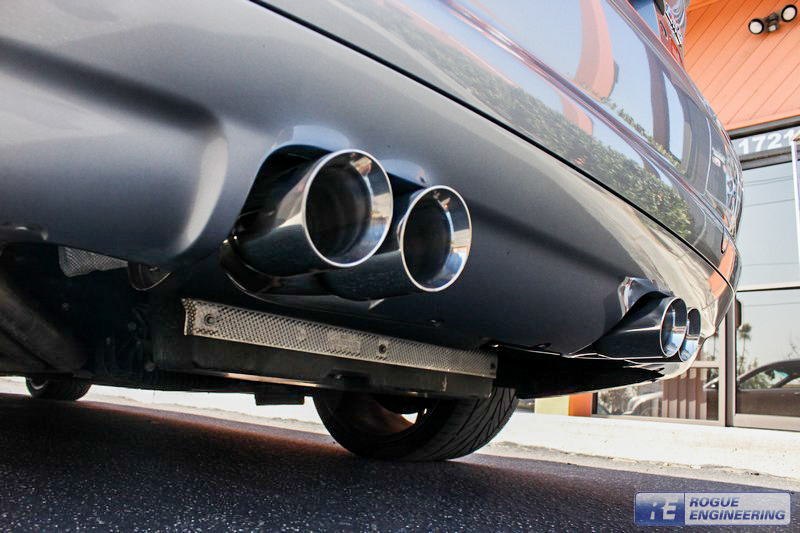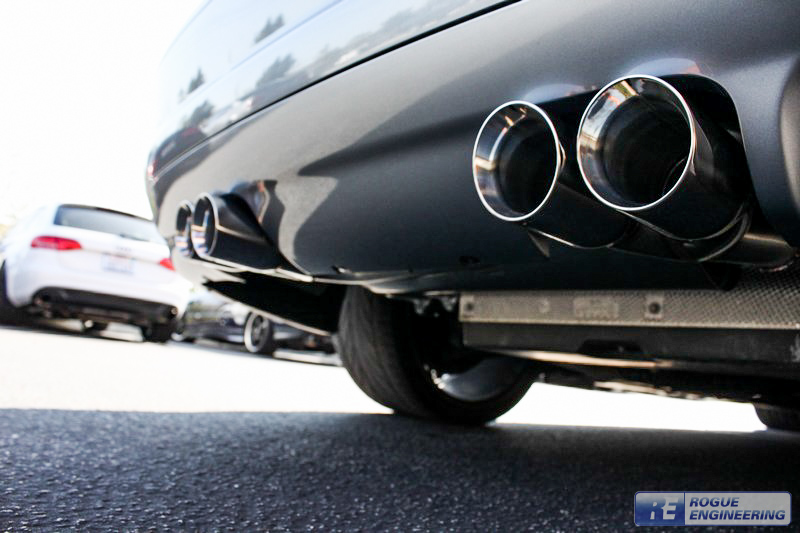 If you have any questions about this Rogue Engineering E46 M3 Exhaust please give us a call at 714-582-3330
Have Questions? Please feel free to give us a call at 714-582-3330
Have Questions? Please feel free to give us a call at 714-582-3330
Mod Category:
Exhaust
Mod Subcategory:
Axle-Back