Features

Massive 20""x5.5""x6"" intercooler core Offers Major Decrease In Air Charge Temperatures

Cast end tanks for improved durability and flow

Enhance Your Front End's Appearance with a polished or anodized black finish

Eliminate Boost Leaks with optional Chargepipe with Standard Kits

Replacing all OEM rubber hoses with hard piping improves throttle response and provides faster turbo spool up

Accelerate Faster with 15 - 25 horsepower gains at the wheels

Applications

2008-2010 BMW E60 535i/xi
Keep your air intake temperatures down, while keeping performance up with the Evolution Racewerks Intercooler for the E60 535i/xi. This Intercooler has been in development for over a year on and off the track, and has had 6 design revisions to improve cooling efficiency and flow characteristics. In recent dyno tests it has shown gains of 15 - 25 horsepower at the wheels, and even more on high boost applications.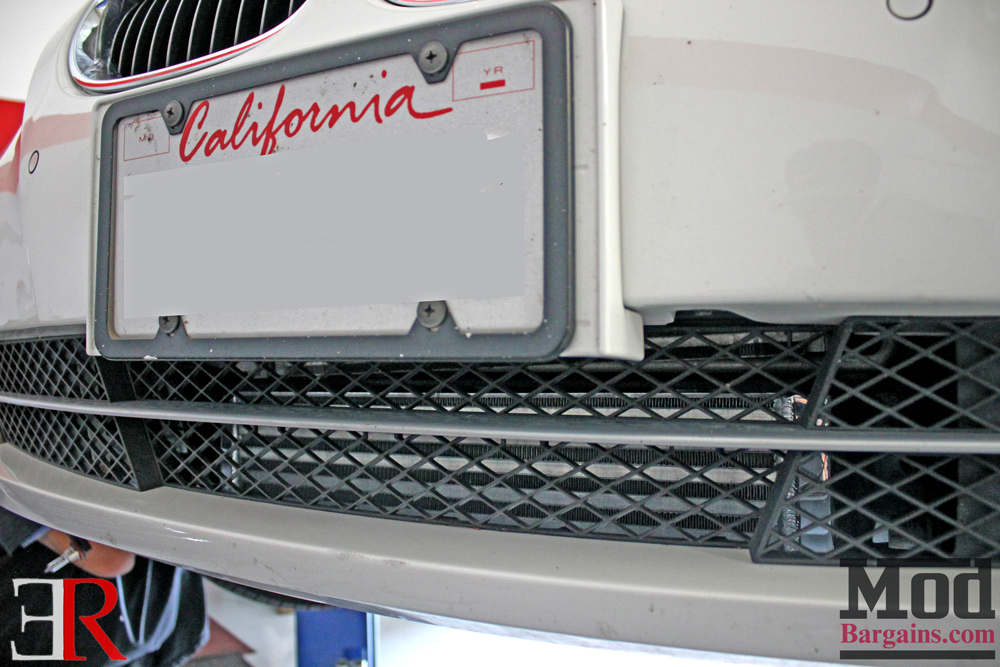 Available Intercooler Kits
There are two available intercooler kits available:
| | |
| --- | --- |
| Basic - This kit includes the intercooler assembly, upper intercooler piping, silicone hump hoses and T-bolt clamps. Everything is included in the kit that is needed to install the intercooler on your vehicle. | Standard - The standard kit consists of everything included in the basic kit but adds the diverter valve pipe upgrade. The diverter valve pipe upgrade allows easy upgrades of the Diverter Valve. Changing the factory diverter valves to aftermarket units will help increase throttle response as aftermarket units tend to react faster and can hold higher boost pressures. |
About the Evolution Racewerks E60 535i FMIC Kit
The heart of the Evolution Racewerks Competition Intercooler is the massive 20"x5.5""x6" (26.5"x5.5""x3" with end tanks) high density bar and plate intercooler core. It features 660 cubic inches of very efficient high density bar & plate core, versus the factory 425 cubic inches. Through extensive testing of different types of intercooler cores Evolution Racewerks found that the high density bar and plate core to be the most efficient. Independent testing has shown that the Evolution Racewerks Intercooler is so efficient in cooling that it has cooled intake air temperatures to almost ambient (outside) temperatures. Evolution Racewerks also did extensive testing on the proper size to use to effectively cool the hot charged air as well as fight off "heatsoaking". "Heatsoaking" is not an issue at all as shown by consistency of the Intake air temperatures staying in the same temperature range throughout the WHOLE RPM powerband. Evolution Racewerks' Competition Intercooler is just what it is, designed for competition. Evolution Racewerks has tested their intercooler in 100+ degree heat, on their time attack race car and have had no problems with heatsoaking. With it's size and ability to support over 600hp, it is most likely the last intercooler you will ever buy.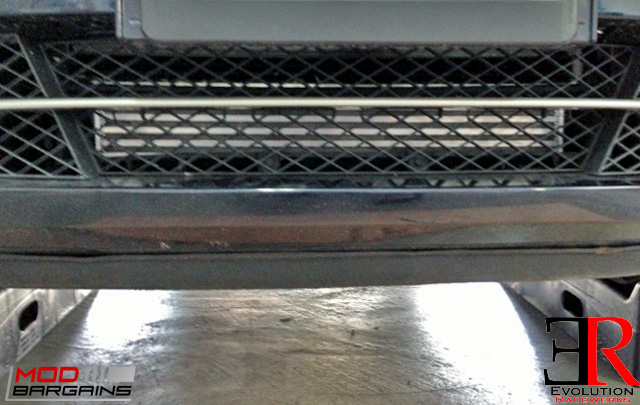 Features

Large 20""x5.5""x6"" intercooler core

Cast end tanks for improved durability and flow

Available in polished or anodized black finish

Includes all aluminum intercooler piping, which replaces all OEM rubber hoses with hard piping

Piping features beaded ends, silicone ""hump"" hoses, and T-bolt clamps

Maintains all factory components

All hardware needed to install is included

Limited lifetime warranty
Design
One of the most overlooked aspect of intercooler design is the intercooler end tank and piping. Having shorter and less bends on the intercooler piping will promote better internal flow.
| | |
| --- | --- |
| | |
| | |
| --- | --- |
| | |
This helps in reducing turbo lag, increase throttle response and faster boost spool ups. An intercooler end tank must be designed to channel and distribute air coming in from the inlet efficiently throughout the intercooler core. Evolution Racewerks' end tanks design has been revised numerous times to promote smooth internal air flow. The cast end tanks allow a smooth radius on the inner edges of the end tank, causing less turbulence. The inlet pipe angle has been changed to provide a smooth entry into the end tank and removes an extra bend that the factory hoses have. Rubber hosing expands under boost pressure. This expansion disrupts internal flow and causes turbulence, all of which slow down airflow velocity (which causes slower boost spool up and decreased throttle response). By replacing the factory rubber hoses with hard piping, noticeable increases in boost spool up and faster throttle response can be seen.
Placement
Evolution Racewerks' Competition Intercooler sits in the factory location underneath the radiator. Why you ask? The radiator fan and radiator shrouding extends from the radiator above towards the bottom, directly behind the factory intercooler.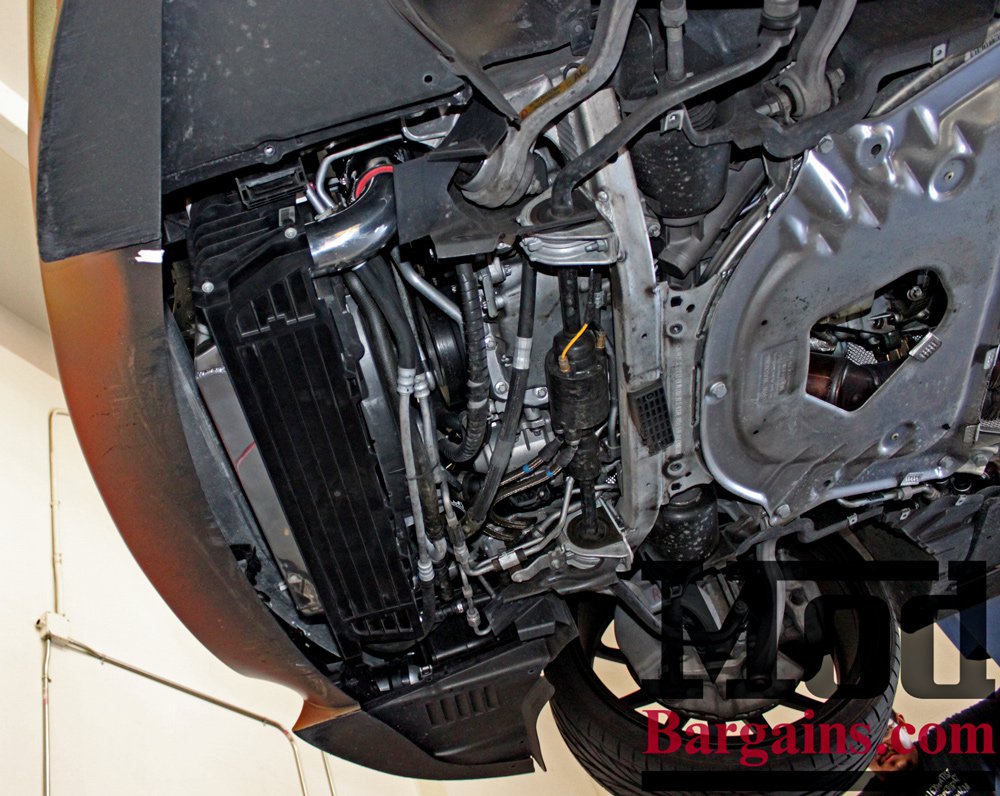 By siting the intercooler in the same location, we can take advantage of the radiator fan pulling air through the intercooler core. This makes for even greater efficiency, just like how the BMW engineers designed it to do. Also, by maintaining the factory configuration, we do not block airflow to the radiator at all.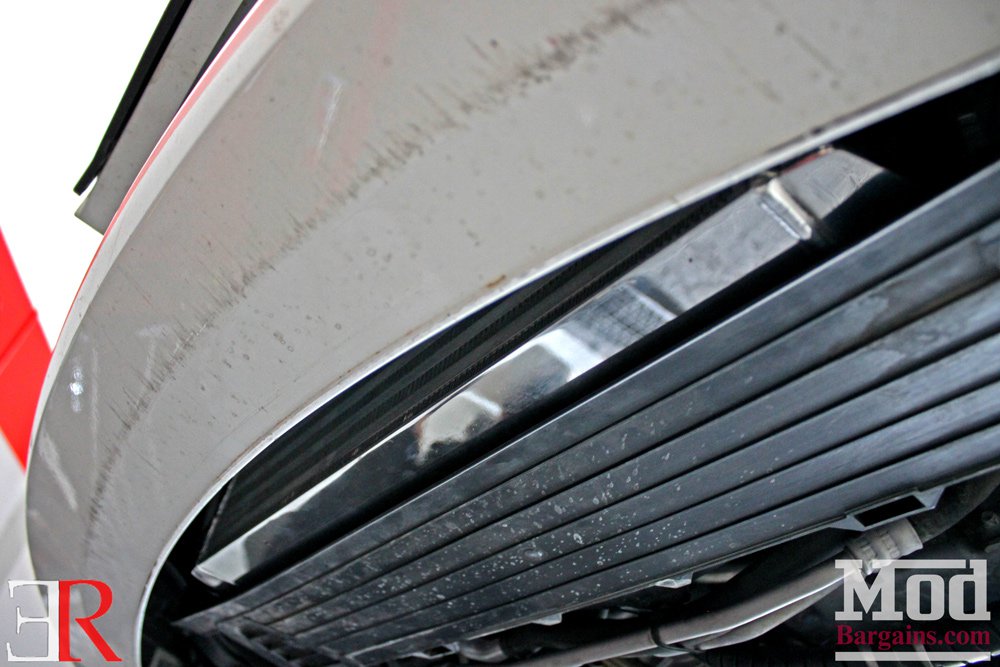 Performance
Unlike turbo kits and other parts where the main power adder is constant, intercooler gains is based largely on how badly the current intercooler setup working and will vary from setup to setup. Dyno graphs do not properly show the performance of intercoolers, intake air temperatures do as that is the job of the intercooler.
The above dyno is on a 135i and made 384whp, and 425 ft./lbs. Evolution Racewerks Intercooler, Catless downpipes, Exhaust, Intake, and Juice Box 3 on 93 octane.

The above dyno is on a 135i and made 438whp, and 450 ft./lbs. Evolution Racewerks Intercooler, Catless downpipes, Exhaust, Intake, and Juice Box 3 on 100 octane.
A car running factory boost pressures and The Evolution Racewerks' Intercooler will see lower gains than another car running more boost with the same intercooler. Even running upgraded downpipes and exhaust will affect overall gain. You will see a 15 to 25 hp to the wheels gain based on your modifications. On high boost cars, we have seen 25+ hp gains.
Upgrade your vehicle's stock, plastic blow off valve to an aluminum Tial Q Blow Off Valve. By upgrading to a Tial Q BOV your car will be able to hold higher boost levels. It is available in 5 different colors; black, silver, red, blue, purple. Through countless hours of research and development Tial was able to make the same size valve flow 60% more, making this blow off valve the highest flowing on the market.
Please note to install the Tial Blow Off Valve on your vehicle you need the upper intercooler pipe. This pipe is supplied with the Standard and Full Evolution Racewerks Intercooler Kit. If you have or plan to order either the standard or full kit you do not need to purchase the upper intercooler pipe.
6061 Aluminum construction

Highest flowing blow off valve on the market

Includes aluminum weld base mounting flange
If you have any questions about this Evolution Racewerks FMIC kit for E60 535i, please give us a call at 714-582-3330
Mod Category:
Performance
Mod Category:
Intake
Mod Category:
Cooling
Mod Subcategory:
Intercooler