Benefits
Makes your BMW Look Better - Makes the car LOOK LIKE A BMW
Lightweight Wheels Offer Faster Acceleration and Better Handling
Silver Finish Compliments most BMWs
Applications
1992-1998 BMW 3-Series + M3 [E36]
1999-2006 BMW 3-Series + M3 [E46]
2007-13 BMW 3-Series + M3 [E90/E91/E92/E93]
1997-2003 BMW Z3 [E36/7]
2004-15 BMW Z4 [E85/E89]
2001-06 BMW X5 [E53]
2007-12 BMW X5 [E70]
2007-16 BMW X3 [E83]
2010-16 BMW X1 [E84]
A message from Mike@ModBargains, CEO:
""The first thing I like to say about our CSL wheels is that I have them installed on my own personal car. The VMR CSL offers that classic CSL look at a fraction of the price of a OEM set of CSL wheels. I got them installed on February 24th, 2005 (almost 2 years ago). They were still on my car to the day I sold my E46. The finish on the CSL wheels for my BMW was still flawless, and there were no bends or cracks in the wheels after I had hit numerous potholes and even slid off the pavement one time. If the owner of a company having CSL wheels installed on his own car doesn't make you confident about these wheels, then I don't know what will :)""

A review from one of our CSL wheel customers:
""Ever since getting the CSL replica wheel and tire combo, I have been tracking the car VERY heavily. I have gone through 3 sets of tires, and the wheels have been in multiple high and low speed collisions. One impact in particular was at 45mph going into a 6+ inch cement curb and hitting both front wheels at that speed + popping the tires. I am just amazed by the quality of the wheels, they have held up extremely well with all this abuse, and while my stock 16"" wheels actually BENT at even slower impacts, these have held up and only show signs of a basic ""curb rash"" rather than deformation. I went through 3 sets of front wheel bearings and every single front control arm bushing is destroyed, while the rims are not even bent.""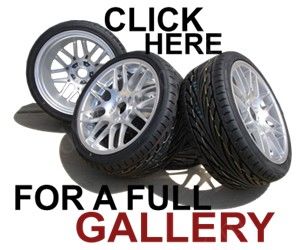 All wheels have a layer of clear coat applied to them after painting and polishing. Not only does this make cleaning easier, it also helps preserve the shine on the wheels and protect them from brake dust. You may use any automotive soap to effectively clean these wheels. Additionally a thin layer of wax will enhance the shine.

BMW centercaps are available upon request.
'
The following two pictures are of the wheels installed on Mike@ModBargains' personal car!


Thank you to Bobo83 (Chris) for the following pictures of our 18"" staggered CSL wheels!



Safety
These CSL wheels are manufactured to meet the highest performance, quality, and safety standards in the industry. The wheel passes JWL, VIA, and ISO-9001:2000 standards to ensure the highest level of safety and quality.

Tire / Mounting and Balancing
ModBargains.com also provides tires to all of our customers if you would like to order them from us, mounted and balanced onto the wheels for your convenience. Please e-mail mike@modbargains.com to find out what tires are available. When you e-mail, please be sure to include the year, make, and model of your car so that we can give you accurate information. Tire packages include 225/40/18 front and 255/35/18 rear tires.

Shipping
Local pickup of these wheels can be performed in the southern california area, please e-mail mike@modbargains.com to schedule an appointment. Otherwise shipping is a flat $99 to the US. International shipping quotes are available via email.

These wheels are installed on our ModBargains Project Car. We only use the best products on our own car, and these wheels are simply amazing.


| | | | | | |
| --- | --- | --- | --- | --- | --- |
| Size | Bolt Pattern | Offset | Weight | Center Bore | Price per Wheel US$ |
| 18x8.5 | 5x120 | +40 | 24.0 lbs | 72.60 | $174.75 |
| 18x9.5 | 5x120 | +45, +22, +33 | 24.4 lbs | 72.60 | $199.75 |
Why Buy Your CSL Wheels from ModBargains?
1. The owner of ModBargains was the first to have CSL wheels installed on his own personal car. That was nearly two years ago and the wheels are still on his car. That says something about our own belief in these wheels as well as the level of support you will get from us on them.
2. ModBargains has a very close relationship with the manufacturer of the CSL wheels for your BMW, which allows us to provide top notch customer service and fast delivery times.
3. We guarantee the fastest shipment.
4. We're obsessive about making our customers happy.
5. We offer a low price guarantee on all of our CSL wheels.
If you have any questions concerning these VMR CSL Wheels please give us a call at
714-582-3330
Mod Category:
Wheels