Evolution Racewerks Charge Pipes for 2012+ N20 BMW 328i/428i/228i [F22/F30/F32]
Evolution Racewerks Chargepipes for BMW F30 328i, F32 428i & F22 228i (N20)
Benefits:
Increase throttle response and decrease turbo lag for Faster Acceleration

Replaces brittle factory plastic charge pipe that is often breaks under high boost

Throttle body matched 2.75"" piping

Includes two 1/8"" NPT Bungs (comes pre-capped) - For methanol injection or as a boost source

Eliminates Potential Boost Leaks
Applications:
2012-16 BMW 328i [F30/F31]

2013-16 BMW 428i [F32/F33]

2014-16 BMW 228i [F22/F23]
Evolution Racewerks is proud to introduce the very first chargepipe out for the F30 328i! The stock chargepipe on your N20 engine is the most restrictive part of the intake system. Turbocharged engines are sensitive to restrictions, robbing horsepower and torque. The major culprit of the huge restriction is the factory chargepipe; forming a slower flow of old air into the motor.
By replacing the factory chargepipe with this new Evolution Racewerks Chargepipe, all the restriction is released! Dyno testing has shown that these chargepipes give you extremely significant increases in horsepower and and even more significant torque to the wheels. While peak horsepower is nice, for dyno charts, what's more important is the power curve. If you look at the dyno charts, torque hits MUCH earlier and harder. The torque curve is BROADER throughout the RPM band. More usable power. This equates to faster turbo spool up (less turbocharger lag) and better throttle response. You will feel the difference instantly.
If you have any questions about this Evolution Racewerks N20 Charge Pipe please give us a call at 714-582-3330
Meth Bung
Evolution Racewerks has added 1/8"" NPT threaded bung (for methanol or nos injectors) to their charge pipes.This allows for quick and easy installation of methanol/nitrous injectors that are used in methanol injection systems and nitrous systems. Each charge pipe comes with 2 meth bungs. Each 1/8"" NPT bung will come with a plug so that you can run with or without the methanol injector. Also, the 1/8"" NPT bung can be used as a boost source to connect your boost gauge or other devices to.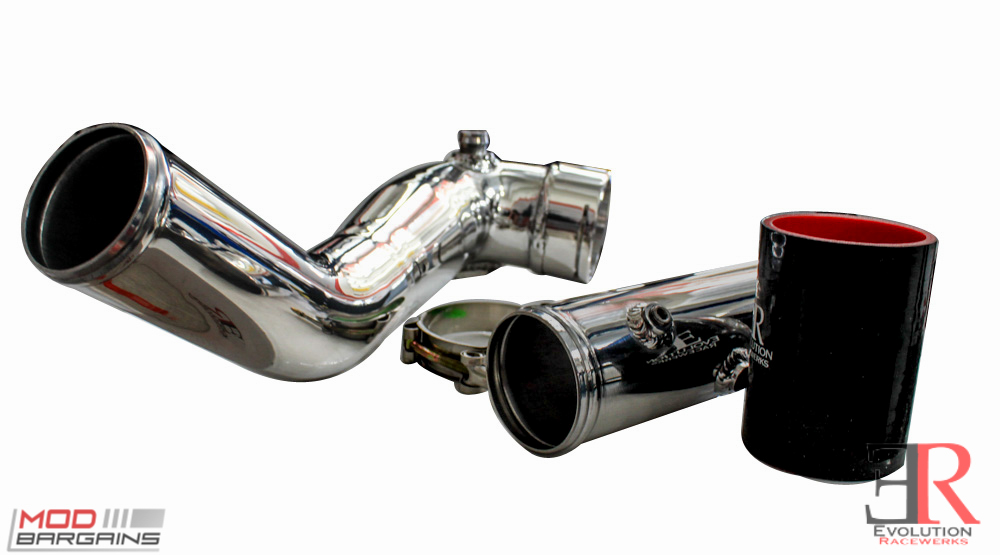 Complete Your Charge Pipe Upgrade with an ER Turbo to Intercooler Charge Pipe (TIC)
Airflow in a pipe tends to travel in the outer edges of the pipe. Hard piping like Evolution Racewerks' TIC charge pipe keeps the inner diameter of the constant and prevents it from ballooning or collapsing. The results? Better throttle response and decreased turbo lag! Pair it with ER's N20 Charge Pipes and have full metal hard piping in your entire intercooler system!
If you have any questions about this Evolution Racewerks F30 N20 Chargepipe please give us a call at 714-582-3330
Mod Category:
Performance
Mod Category:
Intake
Mod Subcategory:
Charge Pipes / Intercooler Pipes
1 Review
Received an email for their black Friday specials and ordered Charge pipes for my F30, Kevin Helped me out and has helped in the past with the greatest customer service I could receive. Very pleased with my order and the professionalism of Mod Bargains .