ModBargains is proud to announce the release of the new VMR V710 22"" Wheel from Velocity Motoring!

VMR is released a brand new size wheel to their lineup and ModBargains is one of the first to have them in stock! The VMR V710 22"" Wheel is a 7 split spoke mesh wheel with a deep concave face, this wheel is available in various widths and offsets. VMR is offering new fitments and sizes to the VMR V710 wheel family. Be the first to own the VMR V710 22"" Wheel, purchase your set of wheels from ModBargains today!

If you want to give your vehicle that clean distinguished look that you've been looking for the VMR V710 22"" Wheel is the choice for you! Contact us at 714 582 3330 with any questions and feel confident to order your new set of wheels with our Low Price Guarantee!!!

Customer Reviews
""This was my first order through ModBargains and I just ordered some VMR V710s from Alan and this was all through email. He responded real quick and I actually could've picked them up the same day but couldn't. If you guys need anything over at ModBargains, hit him up, he'll take care of you. I will definitely shop there in the future.""
-

[email protected]

""I had ordered vmr 710s from you guys and I wanted to let you know Elliot has been a pleasure to work with, he's smart talented and knows what he's doing. I must have asked 3000 questions and he answered them with his full attention "" - Devin
22"" V710 Features:

Big brake friendly
Powder coated base & clear
Compatible with tire pressure sensors
Certifications include JWL/VIA/ISO 9001:2000

Type:

7 Spoke
Dual-Spoke
22"" fitments Staggered

Available Finishes:

Hyper silver
Gunmetal
Matte Black
Many Custom Finishes

Applications:

Acura MDX & ZDX
BMW 6-Series
BMW 7-Series
BMW X5 & X5M

BMW X6 & X6M

Porsche Panamera
Porsche Cayenne
VW Touareg
Tire / Mounting and Balancing
ModBargains.com also provides tires to all of our customers if you would like to order them from us, mounted and balanced onto the wheels for your convenience. Please contact us to find out what tires are available. When you e-mail, please be sure to include the year, make, and model of your car so that we can give you accurate information.
Initial Sizes & Fitments
| | | |
| --- | --- | --- |
| Size | Offset | Bolt Pattern |
| 22x9 | ET20 | 5x120 |
| 22x9 | ET33 | 5x120 |
| 22x10.5 | ET25 | 5x120 |
| 22x10.5 | ET40 | 5x120 |
| | | |
| --- | --- | --- |
| 22x9 | ET43 | 5x130 |
| 22x9.5 | ET50 | 5x130 |
| 22x10.5 | ET45 | 5x130 |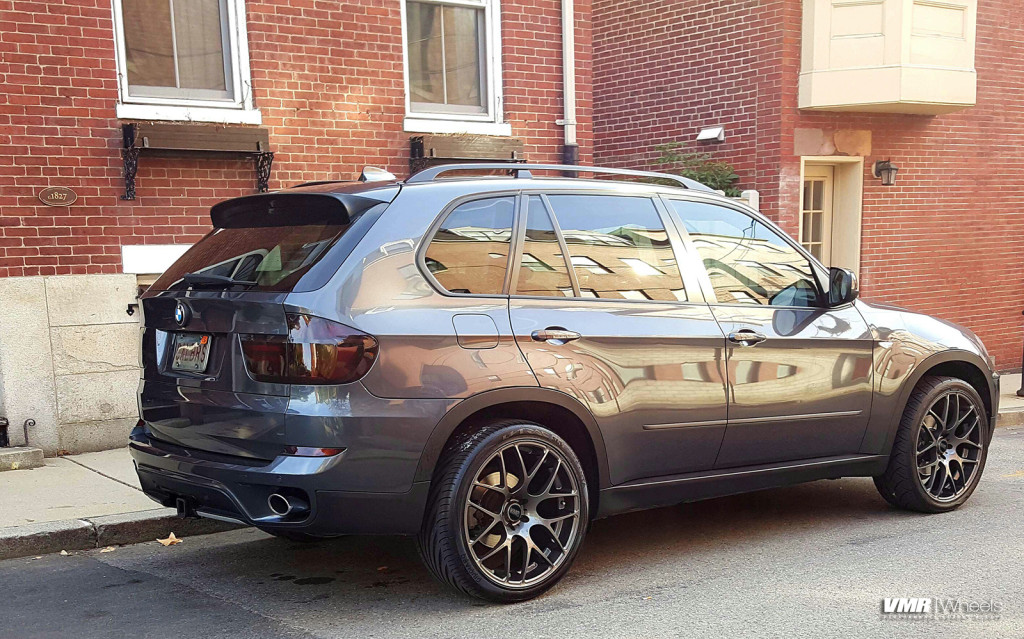 Shipping
Local pickup of these wheels can be performed in the southern California area, please contact us to schedule an appointment. Otherwise shipping is a flat $99 to the US. International shipping quotes are available via email.

For customers in Europe seeking TUV certification, the wheels are stamped on the back with the max load rating. With this stamp on the back of the wheel, you are able to have this wheel approved for use on your vehicle under TÜV standards. You will not have any issues running this wheel due to strict TÜV regulations.
Why Buy Your Velocity Wheels from ModBargains?
1. ModBargains was the first to bring you the CSL style wheels from ModBargains and we continue to sell these wheels as well as many Velocity models on a regular basis to very satisfied customers. Our experience with these wheels is unprecedented and allows us to provide you the most detailed information on fitting the proper wheels and tires to your vehicle.
2. ModBargains has a very close relationship with Velocity wheels for your BMW, which allows us to provide top notch customer service and fast delivery times.
3. We guarantee the fastest shipment.
4. We're obsessive about making our customers happy.
5. We offer a Low Price Guarantee on our Velocity wheels.
VMR V710 22"" Gunmetal
VMR V710 22"" Hyper Silver
VMR V710 22"" Matte Black
VMR 22"" V710 Galaxy Black / Porsche Cayenne

Mod Category:
Wheels