ST Suspensions Coilover Kit for S197 Ford Mustang
BENEFITS:

Get that stylish stance
Performs better in the corners
Will last the lifetime of your car
Fully adjustable height
Less lift, dive and body roll
Great value for the price

FEATURES:

Composite spring cap - lightweight, less noise, won't corrode or deteriorate
Hardened chromed piston rod
High strength springs
Composite spring seat
Twin-tube technology
Zinc plated strut housings
Drop Range of 1.2-2.4in Front, 1.4-2.2in Rear
Fitment:
| | | | | |
| --- | --- | --- | --- | --- |
| Year | Make | Model | Part Number | Part Name |
| 2005 -14 | Ford | Mustang V6/GT/GT500 | 90323 | ST Suspension X Coilover Kit - Fixed Damping |
| 2005 -14 | Ford | Mustang V6/GT/GT500 | 18230845 | ST Suspension XTA Coilover Kit - Adjustable Damping |
Ever since ST Suspensions got into the business in the early 80's, they have been providing the best valued suspension systems in the industry, like the Coilover Kit for the 5th generation Mustang. These coilovers are mainly produced to give you stiff yet comfortable dampening while at the same time allowing you to adjust the height of your ride to your liking. With
this system, you get an extremely durable shock body and springs with the strength and endurance to handle the punishment of daily and even track driving. The Mustang is a heavy V8 muscle car with loads of power, and all it needs off the lot is a suspension kit that can maximize its handling capabilities; nothing does the job better for the price than this ST Suspension Coilover Kit.
If you're looking to make your Mustang look more aggressive, stick like glue in the corners, and have much less body roll, lift and dive, then the Coilover Kit for the 5th gen Mustang is exactly what you want. Performance is only limited off of the lots, so why not go past that limit by getting a new suspension setup that helps increase your cornering speed, lower your center of mass, and adjust your coilovers for different conditions? That's why you should give ModBargains a call about picking up a set of ST Suspensions Coilovers for your Mustang at 714-582-3330. And if you have any questions about the ST Suspensions Coilover Kit, our product specialists would love to talk to you.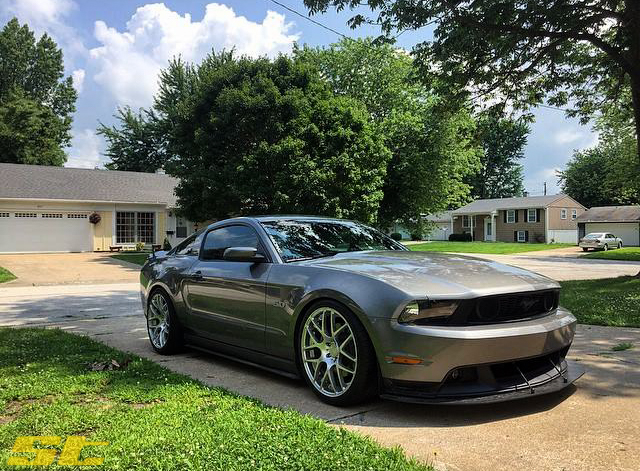 Interested in the ST Suspensions Coilover Kit for the S197 Mustang? Give us a call at 714-582-3330
Mod Category:
Suspension
Mod Subcategory:
Coilovers