Remus Exhaust Benefits

Dyno Proven Performance Gains

May increase fuel efficiency

Deep, aggressive exhaust note

Enhances your GTI's appearance

Dual-Exit Exhaust For Sporty Look

Stylish Quad Exhaust Setup

Construction

Designed, Developed and hand made in Austria

High Quality 304 Stainless Steel Construction

Durable ABS Diffuser for Quad or Dual Exhaust

Backed by a 3 year/unlimited mile warranty

(Quad 84mm street race tips on either side of diffuser)
Application
| | | | | | |
| --- | --- | --- | --- | --- | --- |
| Vehicle | Year | Exit | Tip type | Tip size | Part No |
| Golf VII GTI | 2015-17 | Dual L/R | Angled Chrome | 84mm | 95513 1500 - 955213 0000 - 955113 0300 - 0046 55S |
| Golf VII GTI | 2015-17 | Dual L/R | Street Race | 84mm | 95513 1500 - 955213 0000 - 955113 0300 - 0046 83C |
| Golf VII GTI | 2015-17 | Dual L/R | Carbon Race Polished | 84mm | 95513 1500 - 955213 0000 - 955113 0300 - 0046 83CS |
| Golf VII GTI | 2015-17 | Dual L/R | Titanium Angled | 84mm | 95513 1500 - 955213 0000 - 955113 0300 - 0046 83CTS |
| Golf VII GTI | 2015-17 | Dual L/R | Street Race Black Chrome | 84mm | 95513 1500 - 955213 0000 - 955113 0300 - 0046 83CB |
This Cat-Back Sport Exhaust System from Remus for Volkswagen Golf GTI Mark VII (2015+) models is designed to give your GTI a dose of aggressive styling with a sporty rear diffuser with quad exhaust tips. Featuring quad 84mm ""street race"" style exhaust tips, a Remus Sport Exhaust silencer unit combined with a ABS-plastic rear diffuser for a complete transformation of the car's rear end character.
The Remus Cat-Back Exhaust System features a performance front silencer and Homologation Mid-Pipe that feeds into straight through muffler (rear silencer), reducing backpressure to provide dyno proven gains in horsepower and torque. No need to worry about fitment; as theexhaust is manufactured to OEM specifications, and uses the same mounting points as stock. All Remus Mufflers are constructed from 303 stainless steel to ensure your exhaust never rusts and lasts as long as your vehicle does. Give your GTI that deep, aggressive Remus exhaust note, while not being overly loud, with a Remus Sport Exhaust.
Remus Innovation Front Silencer for Mk VII GTI

Features

Increases Exhaust Flow

Includes Homologation Pipe

Significant increases in horsepower and torque

Highest-quality stainless steel

70mm Outlet Front Silencer

Includes Optional 65mm Adapter To Mate With OEM Downpipe
Diffuser Option
| | |
| --- | --- |
| Carbon Optic Diffuser [952401-HES] | Satin Black Diffuser [95240-HES] |
Exhaust Tip Option

Chrome Angled 84mm [0046 55S]
| | |
| --- | --- |
| Street Race 84mm Polished [0046 83C] | Carbon Race 84mm Polished [0046 83CS-] |
| Titanium Internal Tips Angled [0046 83CTS] | Street Race 84mm Black Chrome [0046 83CB] |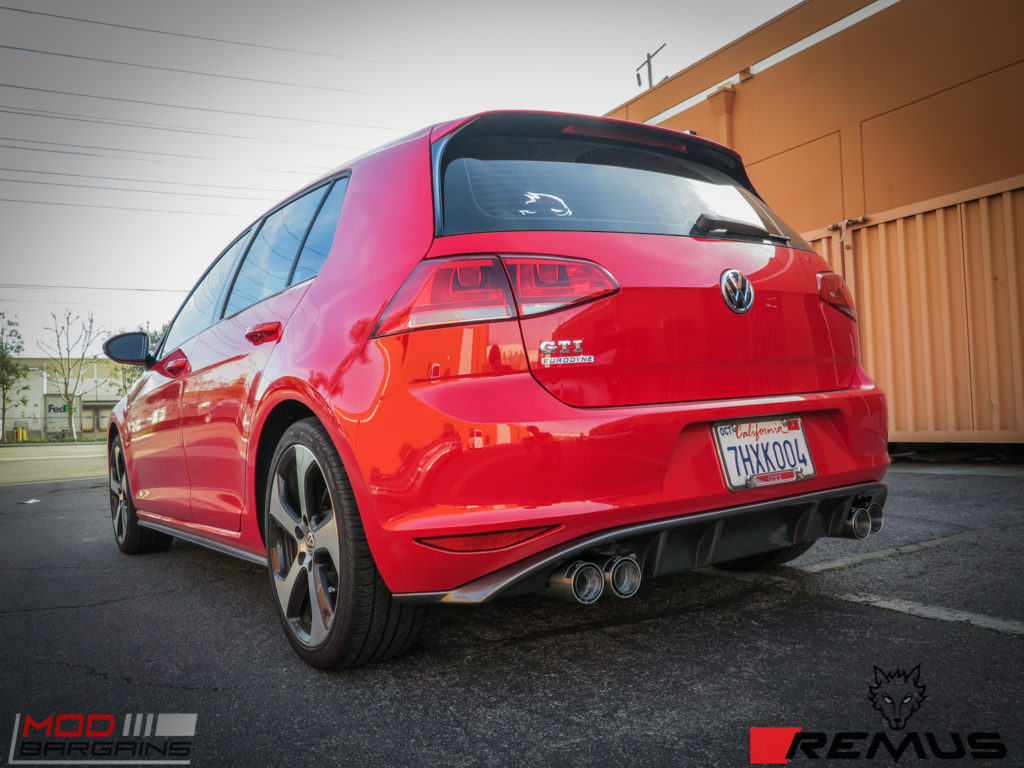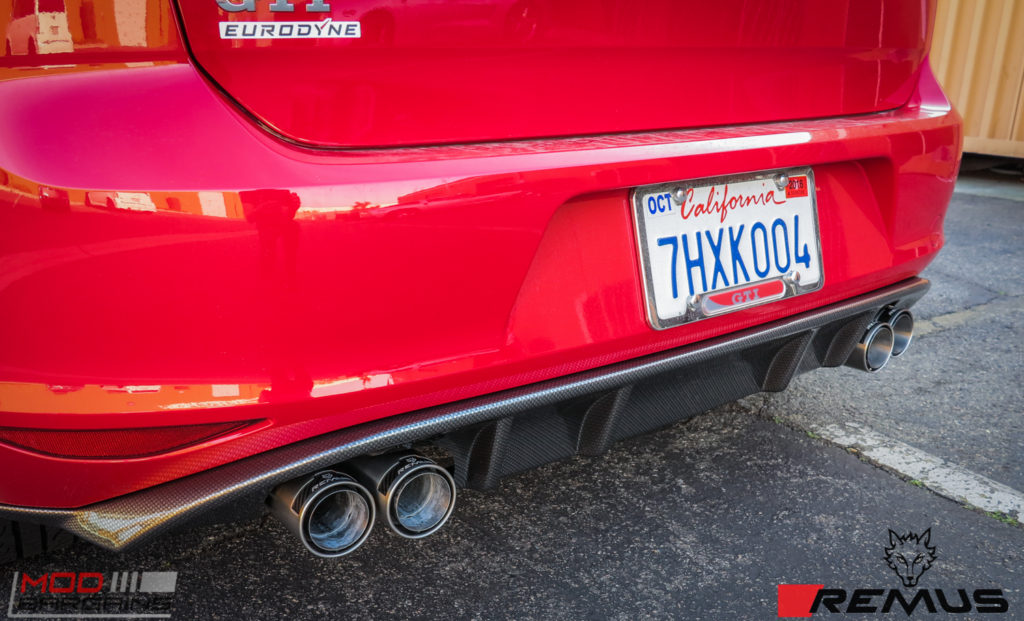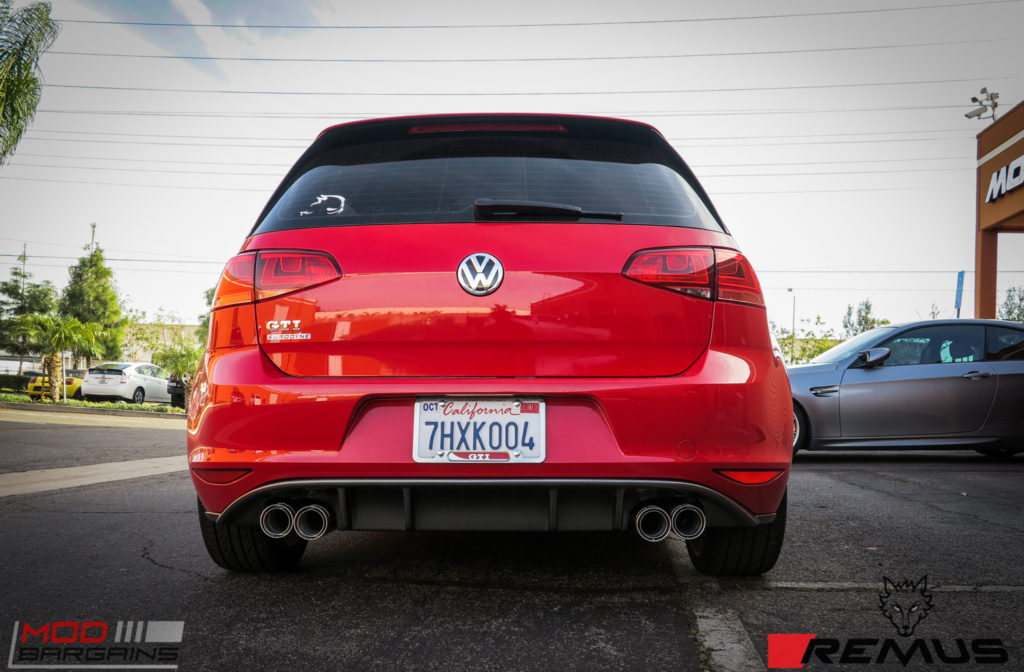 ---
Why Remus Exhaust?
Remus is the worlds largest manufacturer of aftermarket automobile sport exhaust. Remus is ISO 9001 and TUV approved. Remus is the OEM supplier to manufacturers such as BMW, Mercedes, AMG, Porsche, Volkswagen, McLaren and tuners such as Brabus, ABT and AC-Schnitzer. This allows us access to shared CAD files for fully automated quick and accurate fitment using the factory mounting points.

Remus Sport Exhausts feature straight through internals which reduces back pressure significantly to provide dyno gains in horsepower and torque. Our back pressure calculations and sound testing is performed in a highly sophisticated acoustics audio dyno laboratory.


All Remus Sport Exhausts are hand made in Austria using the highest quality materials and meet or exceed the strict TUV standards. All exhausts are constructed of 304 stainless steel with a shot blasted finish to increase resistance to fatigue failures, corrosion fatigue and stress corrosion cracking while also ensuring that they never rust. Each system is developed and designed specifically for each model to ensure correct back pressure, sound quality and fitment.
Mod Category:
Exhaust
Mod Subcategory:
Axle-Back
Mod Subcategory:
Cat-Back