Benefits:
Increase throttle response and decrease turbo lag for faster Acceleration

Replaces factory soft plastic charge pipe that often breaks under high boost

Throttle body matched piping for Superior Power Gains

Precision CNC machined MAP sensor flange ensures leak free connection

Beaded ends and T-bolt clamps to prevent intercooler piping from coming off from boost

Compatible with the factory electronic diverter valve
Applications:
Note: Fits all vehicles with the N55 motor
BMW F30/F31 335i 2013-2016

BMW F32/F33 435i 2013-2016

BMW F20 M135i 2013-16

BMW F22 M235i 2014-16

BMW F87 M2 2016+
The OEM diverter valve equipped on the N55 was never designed to hold high boost. Once the car is tuned the stock diverter pipe will begin to leak, losing your boost and your horsepower. Evolution Racewerks has addressed this problem with their new N55 diverter pipe.
Evolution Racewerks has finally released their N55 diverter pipe! ModBargains is proud to be one of the first to offer it to our customers. The Diverter Valve Upgrade Pipe is available in the same 2 finish. It is available in a mirror polish finish. It is also available in our Type III Hard Black Anodizing for the guys that want the stealthy, factory look. An added benefit of the Type III Hard Black Anodizing is that it hardens the aluminum piping and makes it more durable against accidental damage (like dropping the pipe).
Diverter Pipe Color Options:
Mirror Finished Polished

Hard Black Anodized

Brushed Aluminum
On the factory diverter valve pipe features a sound baffle for the diverter valves. This sound baffle is connected on the side of the factory diverter valve pipe which splits airflow. This causes turbulence inside the pipe which slows the charge intake air velocity (speed of the air traveling inside the pipe). By removing this turbulence (by eliminating the factory diverter valve sound baffle), increased throttle response, decrease turbo lag and ultimately higher maximum power potential can be realized. Our Diverter Valve Pipe Upgrade eliminates this sound baffle and thus eliminating the unnecessary turbulence in the diverter valve pipe, keeping charge intake air velocity at it's maximum. 3"" 6061 Aluminum piping was used to properly match the size of the throttle body as well.
| | |
| --- | --- |
| | |
NOTE: Meth Bungs are now an available option on the Evolution Racewerks Diverter Pipe.
What are Meth Bungs?
Evolution Racewerks has added 1/8"" NPT threaded bung (for methanol or nos injectors) to their charge pipes.This allows for quick and easy installation of methanol/nitrous injectors that are used in methanol injection systems and nitrous systems. Each charge pipe comes with 2 meth bungs. Each 1/8"" NPT bung will come with a plug so that you can run with or without the methanol injector. Also, the 1/8"" NPT bung can be used as a boost source to connect your boost gauge or other devices to.
| | |
| --- | --- |
| | |
Key Features:
Increase throttle response and decreases turbo lag.

Compatible with factory diverter valves or aftermarket factory style diverter valves.

Lightweight High Grade 6061 Aluminum Piping.

Throttle body matched 3"" piping.

Retains factory style o-ring throttle body lock flange. Precision CNC machined throttle body flange ensures leak free connection to throttle body. Quick and easy connection and disconnection to throttle body. Ideal connection compared to the silicone hose and hose clamp connection found in all other aftermarket diverter valve upgrade pipes available in the marketplace.

Precision CNC machined MAP sensor flange ensures leak free connection.

Factory diverter valve sound baffle, which causes turbulence in the factory pipe, is removed.

Optional Type III Hard Black Anodizing (for stealth and OEM look). Hard anodizing helps improve durability of intercooler piping. Resists bent or dented piping.

Includes all hardware for complete installation.

Limited Lifetime Warranty
Complete Your Charge Pipe Upgrade with an ER Turbo to Intercooler Charge Pipe (TIC)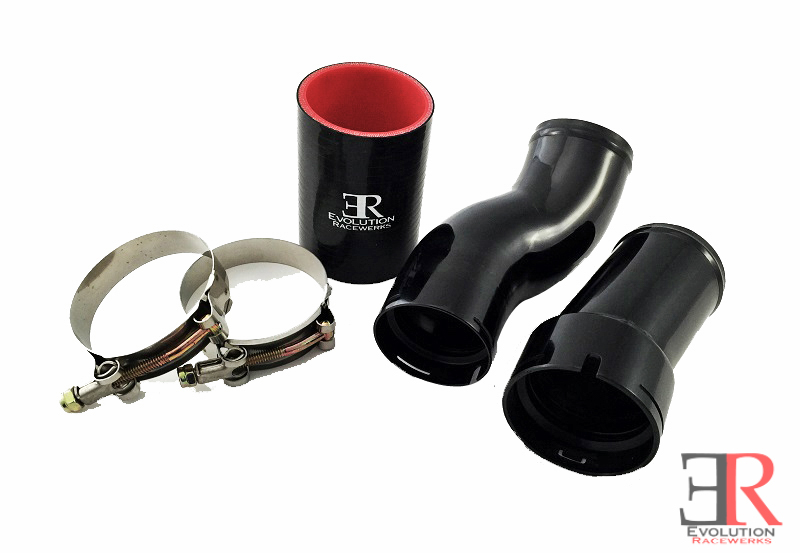 Airflow in a pipe tends to travel in the outer edges of the pipe. Hard piping like Evolution Racewerks' TIC charge pipe keeps the inner diameter of the constant and prevents it from ballooning or collapsing. The results? Better throttle response and decreased turbo lag! Pair it with ER's N55 Charge Pipes and have full metal hard piping in your entire intercooler system!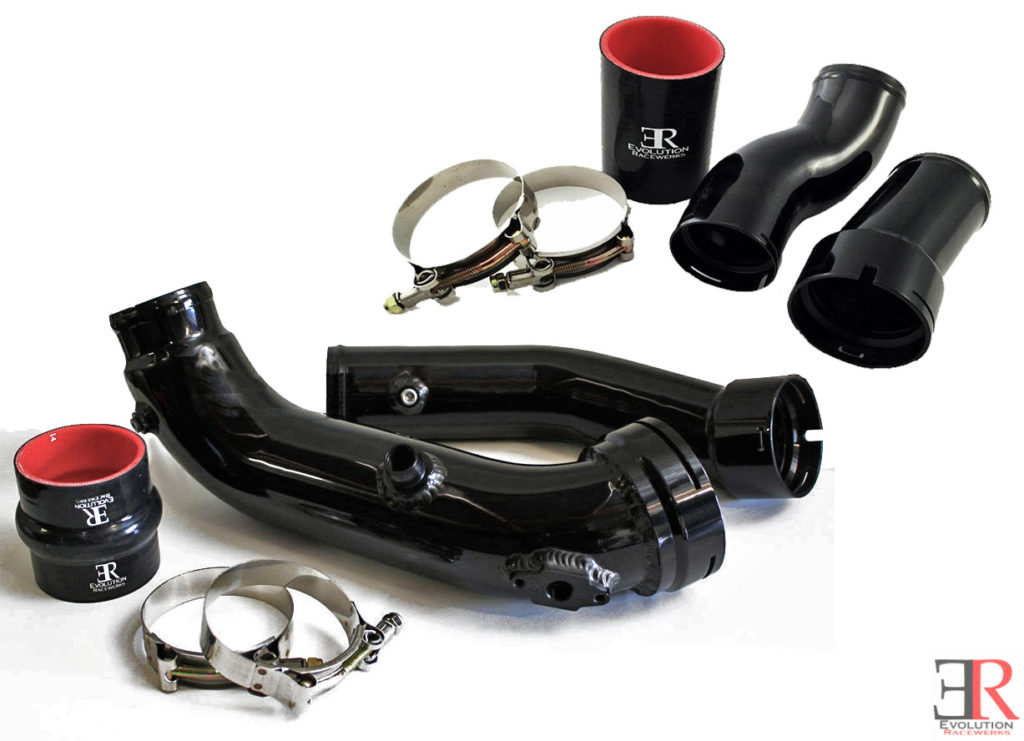 If you have any questions about this Evolution Racewerks N55 Chargepipe please give us a call at 714-582-3330
Mod Category:
Performance
Mod Category:
Intake
Mod Subcategory:
Charge Pipes