APR Performance Front Wind Splitter FRS/BRZ
APR Performance's Front Wind Splitters for FRS or BRZ aren't just for looks; they are the absolute real deal. If aerodynamics, grip and stability are how you define performance than these splitters are exactly what you're looking for. They attach directly under your stock bumper and create a high pressure zone of air in the lower portion of the front of your car. This creates less drag and allows your car to glide right through the air stream like it isn't even there. And yes, these front wind splitters from APR Performance look pretty phenomenal too if you're into having a racecar appearance on the street. And they are light enough that you won't even notice the difference at low speeds around town.
But once you start to hammer on the gas pedal you will really take notice of how the attitude of your car changes in both a straight line and in the curves. There is no more shakiness or uncertainty of where the car will be going because your APR Performance front wind splitter will be guiding you right to the apexes of the corners in a smooth and consistent manner the whole way. Overall, these front wind splitters for the FRS and BRZ are confidence boosters, lift deterrent, pieces of art, and lightweight performance-enhancing tools that can be used in just about every driving environment. So get one today before they're all gone!
BENEFITS:

Reduced lift

More confidence on the road and track

Looks amazing

Strong carbon fiber construction

FEATURES:

Made out of sheets of carbon fiber

Covers the entire under-portion of your front bumper

Creates REAL high speed performance

Includes support rods

(FRS Model Shown)
WARNING: Carbon fiber and FRP products are extremely difficult to install because they are handmade and created in molds that can slightly change overtime. This affects how the product fits to your car from the factory. So items like wings and other body parts will have to be sanded to adhere and attach to your car properly without compromising the structural integrity of your carbon fiber or FRP product. That is why we at ModBargains highly recommend that you have your APR Performance products professionally installed by us to ensure that you get the best end result and value for your money. We want you to love your new performance parts; that is why we have highly skilled and experienced installers that give you the fit and look that you want out of your carbon fiber and FRP parts.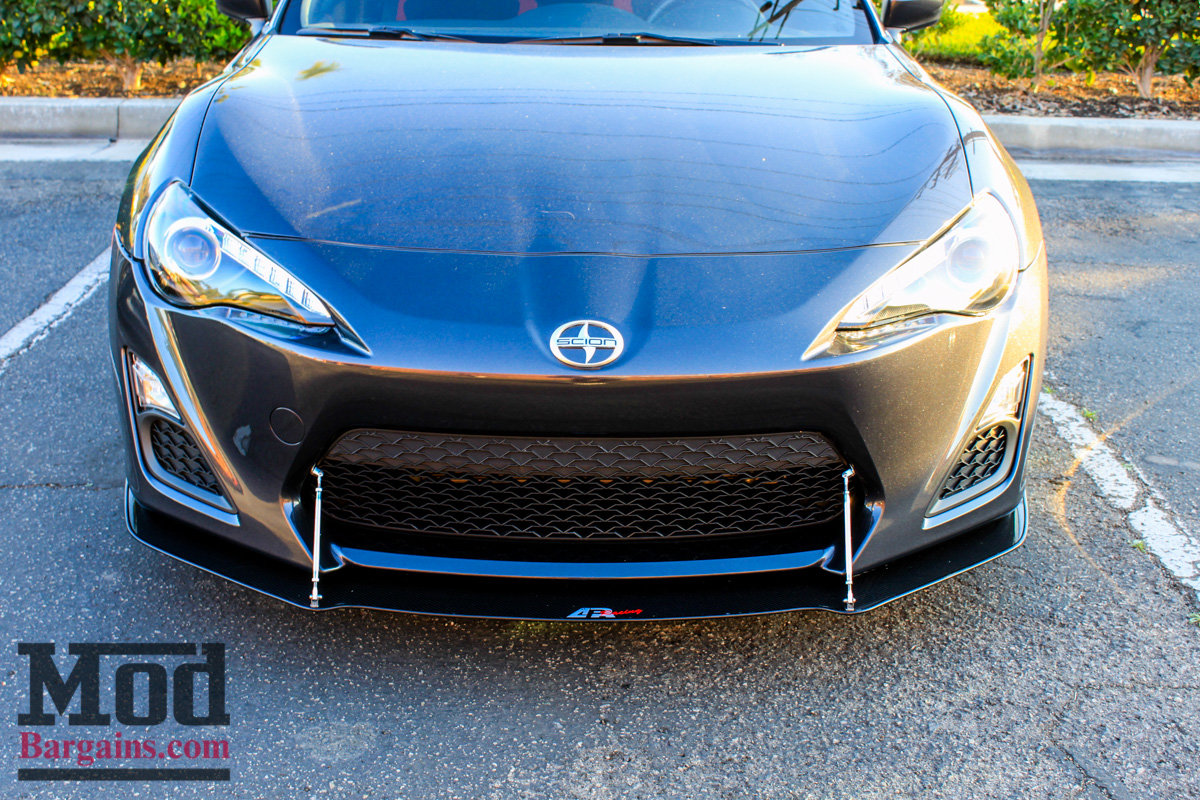 APR Performance Front Wind Splitters are the best way for you to improve the aerodynamics and performance of the front of your FRS and BRZ in the straights and corners. So make an order today by calling ModBargains at 714-582-3330 and schedule an install time for our Modification Experts to outfit your FRS or BRZ.
So if you're interested in grabbing an APR Performance Front Wind Splitter, Call ModBargains at 714-582-3330
Mod Category:
Exterior
Mod Subcategory:
Front Lips / Splitters