Modbargains is proud to introduce the newest diverter valve for the N54 engine, the Turbosmart Kompact Plumb Back Diverter Valve. The Turbosmart Plumb Back diverter valve is different then other diverter valves in that it is specifically designed for the N54 engine, where others are simply designed for a multitude of applications. Most importantly this diverter valve replaces your factory plastic bypass valves for an easy, 100% bolt on installation. This is an ideal upgrade for anyone who is running higher boost (software or tune) and a necessity if you would like greater boost response and no boost leaks.
Does NOT FIT 535i.
Please note - This is a diverter valve, and is designed to keep your N54 stock sounding, and will not produce that ""woosh"" blow off valve sound. If you are looking for the Turbosmart Kompact Dual Port Blow Off Valve click here.
• Bolt on installation, connects directly to your OEM diverter pipe
• Improved boost response
• No more boost leaks!
• Replaces the factory plastic valves
• Fits all N54 equipped BMWs
• Includes everything necessary for installation
Applications
TS-0203-1250

2008-2010 BMW E82/E88 135i
2011 BMW E82 1M
2008-2010 BMW E92/E93 335i/xi
2007-2009 BMW E90 335i/xi
2009+ Z4 35i/35is*
REQUIRES ADDITIONAL PIPE (TS-0203-2001)
For vehicles WITHOUT an Injen Intake

This BOV ONLY works with the N54 engine


Additional Pipe for Z4 (TS-0203-2001)

Installed In Engine Bay (Further out view)

Installed In Engine Bay (Far View)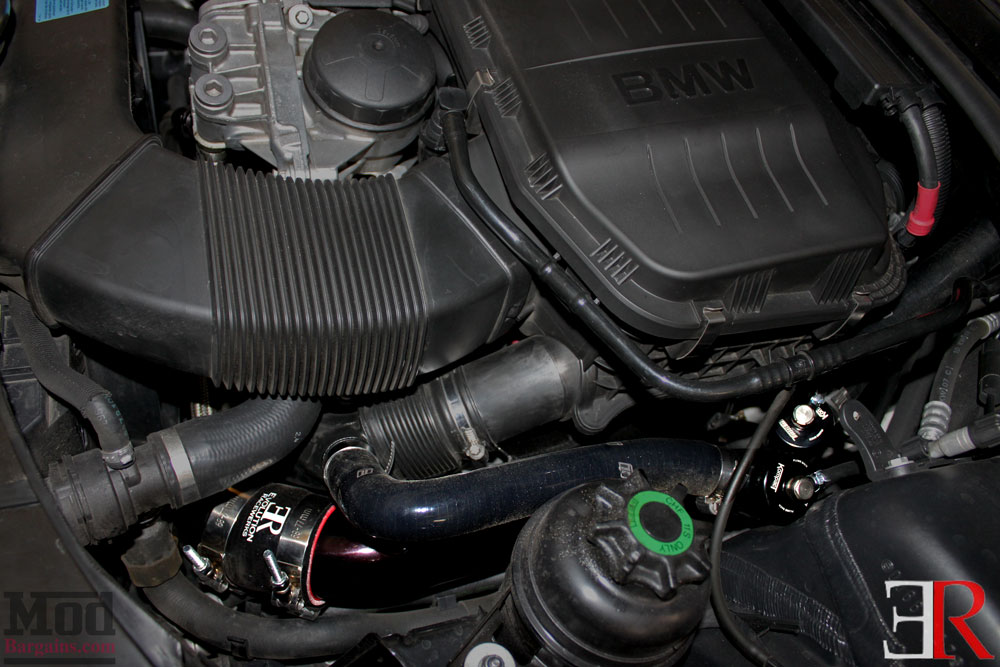 Turbosmart Dyno Charts
The Following dyno chart was completed using a 1M, ONLY changing the stock diverter valves to the Turbosmart Diverter Valves. The graph shows the stock diverter valves leak boost, especially down low where it counts. Just by switching them to the Turbosmart Diverter Valves gains in torque are realized throughout the RPM range, with gains of over 25 Ft./Lbs down low.
The following dyno shows manifold pressure, and how just by switching to the Turbosmart Diverter Valves boost pressure is maintained.
Installation

Installation for the Turbosmart Plumb Back Diverter Valve is rated as medium. Below is an installation guide.
Click here for an installation guide
Mod Category:
Performance
Mod Category:
Intake
Mod Subcategory:
BOV / BPV