Benefits

Let your V8 sing at any RPM while also improving throttle response
Brings out the full potential of your M5/M6's turbo S63 V8 by significantly improving air flow
Beautiful bespoke carbon fiber crafting integrates nicely into your BMW's engine bay
Lightweight, high performance, and drop dead stunning - the Eventuri Carbon Fiber Intake is the complete package

Features:

100% Prepreg carbon fiber housings and inlet tubes

Extreme high flow filter mounted inversely for maximum air speed

Smooth bend air scoops which extend into the grill for laminar air flow

2x2 Carbon Fiber Weave

Applications

2011+ BMW M5 [F10]
2012+ BMW M6 [F12/F13]
2013+ BMW M6 Gran Coupe [F06]

Please contact us if you have question about the Eventuri Carbon Fiber Air Intake for the 2011+ BMW M5/M6 [F06/F10/F12/F13] (714) 582-3330
Eventuri's Carbon Fiber Intake for the 2011+ BMW M5/M6 features a complete redesign of the OEM intake system, optimizing air flow throughout the entire track. Premium carbon fiber construction dramatically increases engine bay aesthetics and really lets you stand out at car meets. Eventuri has poured countless hours of research and development to produce a fully optimized system for your M5/M6.


Starting with the air scoops, Eventuri aimed to reduce incoming air turbulence by incorporating smooth bends and curves to redirect the air in a laminar fashion. This feeds smooth, cool air into the heat-shielded airbox where it then enters Eventuri's patent pending inverted carbon fiber air filter housings. Functioning as large velocity stacks, these housings significantly increase air flow speed and volume. From there, the air flows smoothly into the throttle body via the bespoke carbon fiber inlet tubes which feature cnc machined integrated aluminum MAF sensor mounts. Perfection from start to finish.
| | |
| --- | --- |
| | |

Velocity Stack Comparison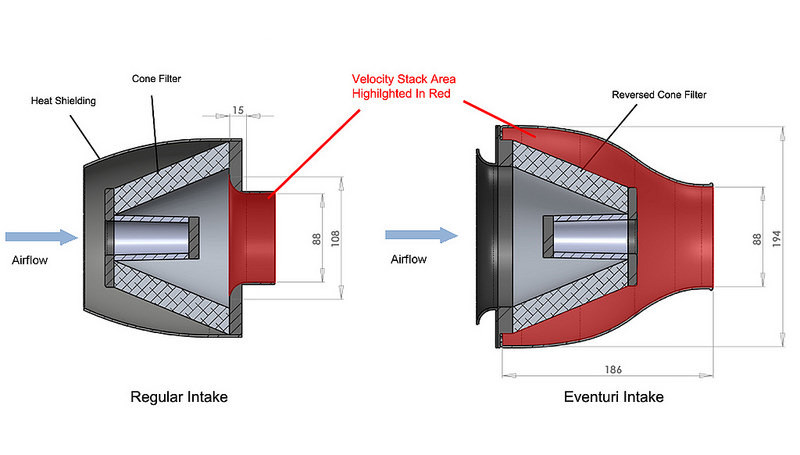 BMW M5 F10 Performance Demonstration



*Note - Both cars have Evolve downpipes and Evolve Stage 2 ECU Tunes.
However, the camera car is running an Eventuri Carbon Fiber Intake

Please contact us if you have questions about the Eventuri Carbon Fiber Intake for 2011+ BMW M5/M6 [F06/F10/F12/F13] (714) 582-3330
Mod Category:
Intake