Maximize performance with Supersprint Metallic Cat!


After the down pipes' outlet flanges, the cross section shrinks down from 65mm to 60mm, (still larger than the factory 57mm tubing size) and it is maintained constant all the way to the tail tips. Once again there are no crushed sections in the tubing as with the factory system for clearance. In place of the factory quad cat design, Supersprint uses 2 high volume / high flow 100 cpsi metallic race cats. These are placed further away from the engine for the lowest restriction and the best results.Provide the best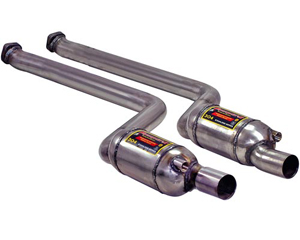 for your 135i with Supersprint Metallic Cat.
High horse power performance applications require the durability and free flow characteristics of metallic racing catalytic converters. Turning up the power or using you car on the track will quickly melt down and damage your O.E. ceramic catalytic converter. Each racing converter is manufactured to racing specifications utilizing a high heat resistant metallic core. The reduced cell count from the O.E. 400 C.P.S.I. to a high flow 200 C.P.S.I. makes the Supersprint racing converters the most free flowing on the market today. All components are 100% stainless steel, and all tubing is mandrel bent to assure you the highest flow volume.

Legal only for racing vehicles which may never be used upon a highway. Not applicable or intended for street or highway use.

Part Number: 022 980 902

Supersprint products are developed around scientific knowledge. Supersprint designs and builds based on each engine's performance characteristics. Because it is actually easier to lose horsepower through misuse of larger diameter tubing and badly designed silencers, exhaust flow rates and velocity are dramatically increased by Supersprint designs while still retaining factory OEM diameter tubes. All design is validated by extensive testing which includes hours of dyno testing on Supersprint's exclusive in-house Maha 4-wheel chassis dynamometer. This rear muffler is constructed of 100% stainless steel. All internal tubing, resonators and tail pipes are stainless steel. Packing material is long-strand stainless steel wool and rockwool. These materials are manufactured to Supesprint specs and provide much higher heat resistance than fiberglass. These materials insure a longer lasting system that will not blow out packing due to heat break-down, and tone that retains sound quality for many years.
Mod Category:
Exhaust