Benefits

Feel the increase in power push you back in your seat with an approximate 7hp gain @8000 rpm & 5tq gain @3900 rpm and a more responsive pedal

Applications
| | | | |
| --- | --- | --- | --- |
| Year | Make | Model | Part Number |
| 2006-2010 | BMW | E60 M5 | D760-3800A |
| 2006-2010 | BMW | E63 M6 | D760-3800A |
| 2007-2010 | BMW | E64 M6 | D760-3800A |
These eight individual throttle bodies are drilled to a larger internal diameter, resulting in improved air-flow for further increases in power and throttle response. They are matched on a Superflow Flow Bench to ensure excellent drivability and durability. Stage 2 Engine Software is highly recommended for ensured performance and drivability.
CORE & CORE CHARGE REQUIREMENTS
The Core Charge is a fee which is added to the price of an item upon checkout. It requires you return a core in acceptable condition. Upon delivery of your core, the core charge will be refunded to your credit card. You can review Dinan's Charge and Core Refund Policy Here.
Click for Installation Instructions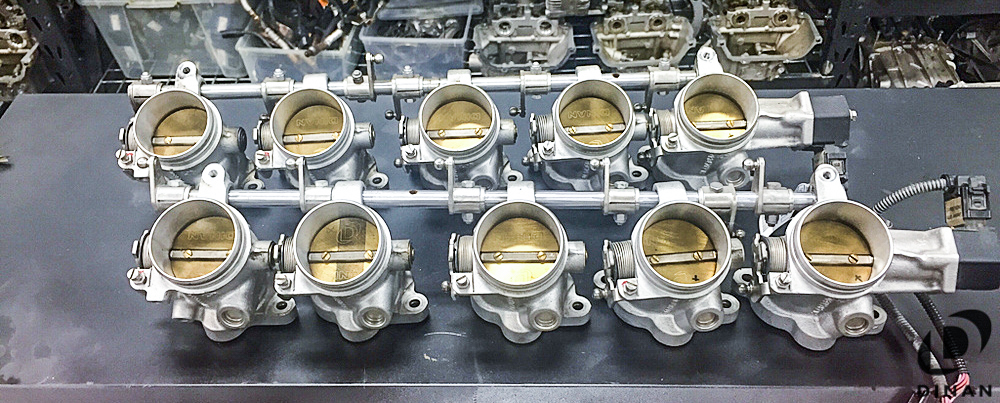 If you have any questions about these Dinan High Flow Throttle Bodies please give us a call at 714-582-3330
Mod Category:
Performance
Mod Subcategory:
Throttle Bodies & Spacers