Benefits

Eliminates Ugly Wheelgap So Your BMW Can Look Like It SHOULD Have Come by lowering your E46 1.0in-1.5in


The Ultimate Driving Machine is Sharpened

with Higher Performance Handling


Progressive Spring Design offers excellent ride quality - great streetability means no ""bobblehead"" ride!
| | | | | | |
| --- | --- | --- | --- | --- | --- |
| Application Guide | | | | | |
| Vehicle Model | Vehicle Year | Notes | Approx. Front Lowering | Approx. Rear Lowering | Part Number |
| E46 323i, 325i, 328i, 330i | 04/1998-2005 | (Exc. Sport Wagon, xi & xiT Models) | 1.4 | 1.4 | 2067.140 |
| E46 325, Sport Wagon | 2000-2005 | (Exc. xi Models) | 1.2 | 1.2 | 2067.140 |
| E46 325xi, 330xi sedan 6cyl. | 2000-2005 | | 1.2 | 1.0 | 2089.140 |
| E46 328Ci, 330Ci Convertible | 05/1999-2005 | (Incl. Sport Package; Exc. xi Models) | 1.2 | 1.0 | 2067.140 |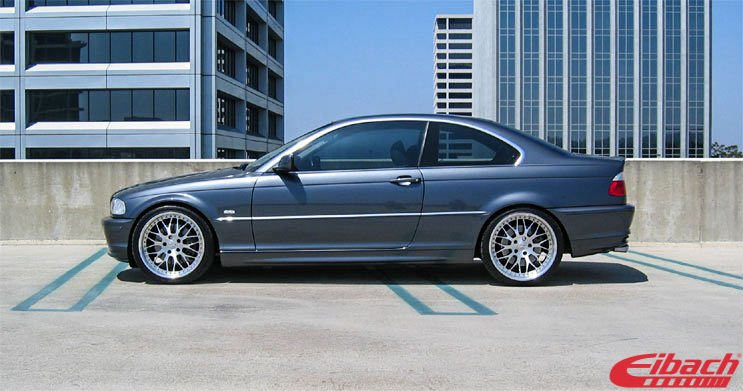 EIBACH SPRINGS REVIEW by ModBargains CEO/Founder Mike Brown:

""After upgrading the wheels on my car from 19"" to 20"", it was evident that I needed to reduce the fender gap on my car to make it look better.
It just looked off, awkward, & not aggressive with the stock ride height. The fender gap just looked huge, and it made the car look bad. I considered a few different options but wanted a moderate drop.
I chose the Eibach Pro-Kit springs for my personal car (CTS-V) because the lowering amount was what I was looking for. Furthermore, Eibach has an extensive background in motorsports and very actively supports the automotive enthusiast community that we serve here.
After installing the Eibach springs on my CTS-V, I was very happy with my decision. The springs lowered the car, made it look great, and the ride quality is excellent! No bouncy feeling, and my girlfriend didn't even notice any difference in the ride quality! I highly recommend Eibach Pro-Kit springs to all of my customers!
-Mike
The Eibach Pro-Kit is the perfect answer for most frequently-driven street cars. It's Eibach's legendary spring system that dramatically improves both a vehicle's performance and appearance.

Pro-Kit lowers your car's center of gravity, reducing squat during acceleration, body roll in corners and excessive nose-dive under braking. When combined with Plus-1 or Plus-2 wheels and tires, the Eibach Pro-Kit is the finishing touch to a winning recipe for performance. Pro-Kit also reduces excessive fender-well clearance, making your car look just as hot as it performs.

Every Eibach Pro-Kit is designed and tested by suspension engineers and performance driving professionals, to deliver aggressive good looks and high performance handling, without ever compromising safety or ride quality. By using proprietary, progressive spring design, Eibach's Pro-Kit provides the ultimate balance to take your passion for driving to a whole new level.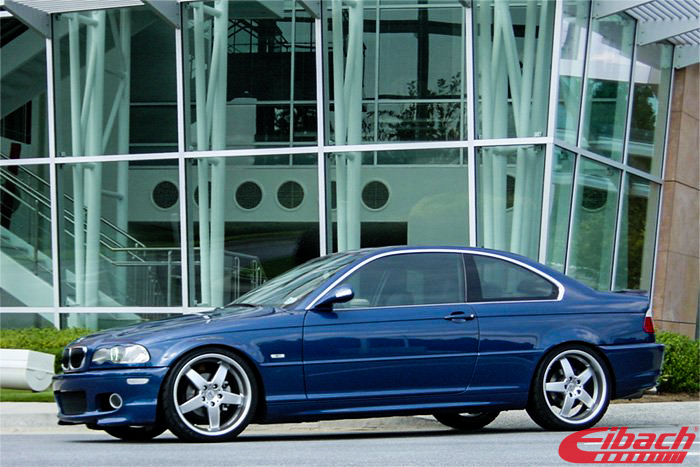 About Lowering Springs
Aftermarket springs are commonly used to lower the ride height and to reduce body roll. This is also often done when upgrading to a larger wheel and tire package. Generally speaking, the stiffer the spring rates (the amount of resistance a spring is set for against compression), the softer the sway bar setting can be set in order to achieve a similarly flat cornering response.

When trying to decide which lowering springs are right for you, your goal should not be to drop down the car as far as possible. In many cases, overly ""slammed"" cars may actually be illegal for road use and terrible performers. The ideal range of adjustment should be 0.5 to 2 inches using traditional lowering springs. Any lower, the height of the perch should be adjusted by using a ride-height adjustable coilover suspension.
Questions about these Eibach Pro-Kit Springs for BMW E46 3-Series? Our Modification Experts are standing by and available to help you, online or by calling 714-582-3330. ModBargains also offers expert installation and can install this upgrade for you. Call today!

Mod Category:
Suspension
Mod Subcategory:
Lowering / HA Springs