Looking to increase exhaust flow even more as well as throttle response and power. Get the entire Rogue Engineering exhaust now with Rogue Engineering's all NEW E60 M5 X-Pipe. This Rogue E60 M5 X-Pipe is made from 16 gauge stainless steel and is a straight bolt on piece, needing no cutting or welding. Complete your E60 M5 Rogue Exhaust System with this Rogue Engineering X-Pipe!

E60 M5 X-pipe Features
The RE E60 M5 X-pipe is made to fit in the place of the factory resonator. Other features include:
Weighs only 12 lbs. for the entire assembly. Factory part is over 18 lbs.
100% T-304 stainless steel construction and internals, a majority of the exhaust made from 16 gauge stainless steel.
Fully mandrel bent tubing, no crimps or flattened areas
Mil-finished.
Full TIG welded construction, no lock seams or pinch welds.
Factory-like hangers for OEM fit
Optimized tubing sizes and minimized bends maintain exhaust velocity without compromising necessary backpressure
Deep, throaty tone, without the drone.
Will not change ground clearance
Will not void factory warranty
Will not affect emissions
| | |
| --- | --- |
| Rogue Engineering E60 M5 X-Pipe | |
Installation Notes

Only simple tools needed
Jack stands and floor jacks or lift required
Professional installation recommended
No cutting or modification required

Applications

Note: The Rogue Engineering E60 M5 X-pipe replaces the stock BMW resonator (shown in green below), between the catalytic converter and the rear mufflers.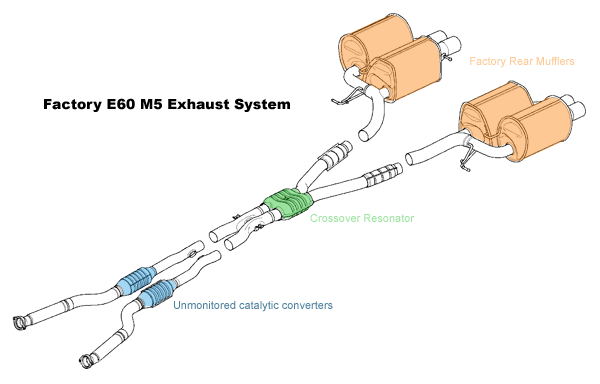 All Stainless Steel is the same, right? WRONG!
All Rogue Engineering Diablo exhaust are produced using only 100% full T-304 stainless steel because of its consistent strength characteristics, corrosion resistance, and wide range of materials (important for controlling sound and exhaust flow). Recently, we examined a well known exhaust brand only to discover the use of 20 gauge stainless steel (stainless is typically sold by weight) throughout the muffler body. While great for reducing weight, this is not a good practice when trying to build a product to last. This common practice of weight (and cost) savings occurs in European and US made exhausts. Rogue Engineering does not prescribe to this practice in their production exhausts! We want you to enjoy the exhausts for many years to come, even if it means sacrificing some weight savings (all Rogue Engineering exhausts are lighter than stock units).
Beware of some companies that pre-coat their exhaust products with ""thermal coatings"". In fact, they may be hiding inferior stainless steel or inferior welding processes. Rogue Engineering Diablo exhausts are always TIG welded and never coated.
Some companies have chosen to build their ""stainless steel"" exhausts with Grade 409 stainless, because it is less expensive than 304. While Grade 409 will resist atmospheric and exhaust gas corrosion, a light surface rust will form is most all atmospheres.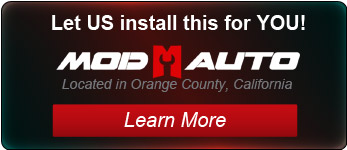 Mod Category:
Exhaust