The Cobb Accessport provides a significantly cheaper tuning solution for your Porsche 996 Turbo compared to other options currently available. Plus, because of the dedication from Cobb Tuning, you know you can expect amazing performance, great customer support and the comfort of knowing you have one of the best tunes available for your car.
To achieve Stage II Power Gains, you need the hardware to back that up. That's why we're bundling the Cobb AccessPORT, Fabspeed Intake and AWE Tuning Exhaust to create the Stage II package for the 996.
This Cobb V3 AccessPORT unleashes the hidden power within your Porsche by taking off the the restrictive factory settings and software. This V3 plugs into your OBD port and flashes your computer (ECU) in a matter of minutes in order to fully optimize the engines and turbo's potential. The tuning is extremely flexible and allows you to choose on the fly one of the performance maps that are already loaded onto the AccessPORT. This tune is an ECU flash, not a piggy-back tuner, there will be no added devices to your vehicle's ECU. Extract every bit of power from your Porsche 996 Turbo today and drastically improve performance with a Cobb Stage 2 Performance Package from ModBargains!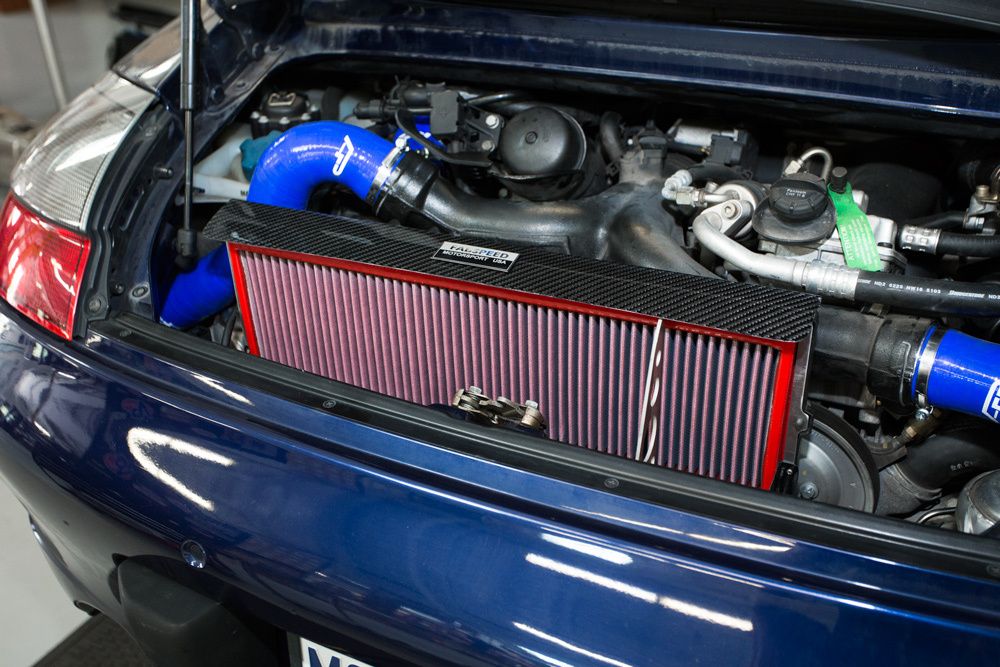 Up to a 21% Horsepower Increase (87HP!) Stage 2 91 // Up to a 30% Torque Increase (124TQ!) Stage 2 91 // NEW Easy to use LCD Screen
---
---
If you have any questions about this Cobb Stage 2 Performance Package for the Porsche 996 Turbo? Give us a call today at 714-582-3330
---
Features

Up to a 21% Horsepower increase! (Stage 2 91 Octane) That's 87hp!

Up to a 30% Torque increase! (Stage 2 91 Octane) That's 124tq!

NEW LCD screen for ease of use.

ECU flash, not a piggy-back tune

Installs in minutes using easy to use AccessPORT interface

Installs via OBDII connector, no tools required

Grows and changes as your modifications do

Uninstalls in minutes to return your ECU to stock configuration

Integrated performance tools to record 0-60 times, 1/4 ET & trap speed

Intuitive DTC code reading to help diagnose issues

Easily clear ECU codes

30 day satisfaction guarantee

Downloadable free performance maps as released
---
Porsche 996 Turbo Accessport V3 Highlights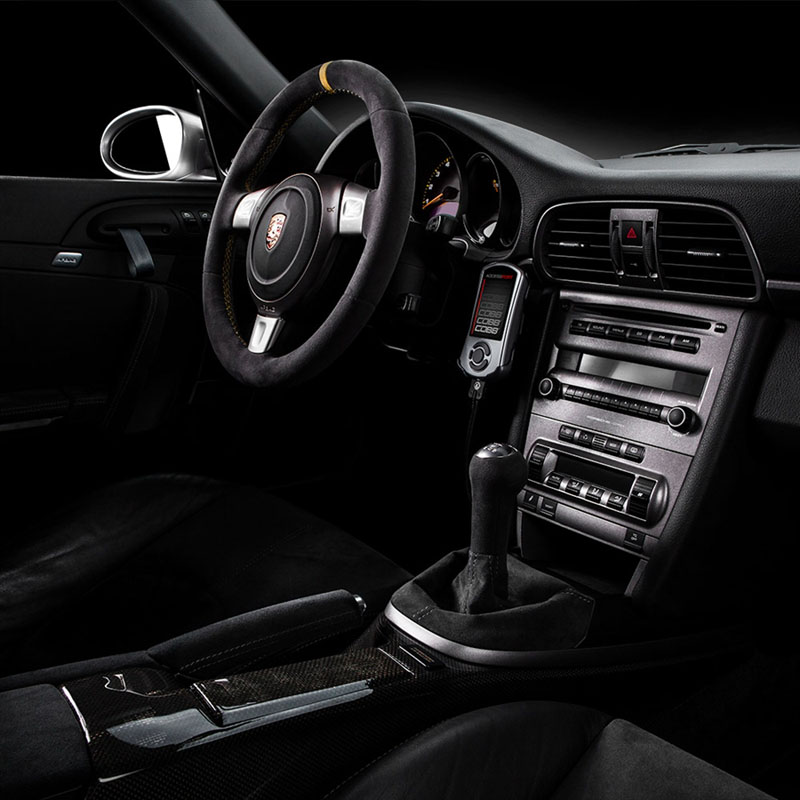 Larger, full color, higher resolution screen...
We super sized the screen for ease of use and better monitoring. Full text help menus, multi-gauge layouts, full map descriptions and more. This screen has room to spare - so no need to run back to your laptop.
---

Customizable multi-gauge display...
Want gauges? No problem. The V3 now supports up to 6 fully customizable gauges with 1/1000 resolution. Monitor all the parameters you want to see and customize each layout for street, strip or track.
---

Faster and easier to use with a familiar face...
We listened to what you wanted. Use your same maps, monitor your same parameters, and troubleshoot your same codes, but now with more. More speed, more memory, more map storage, more live gauges, and more troubleshooting help.
---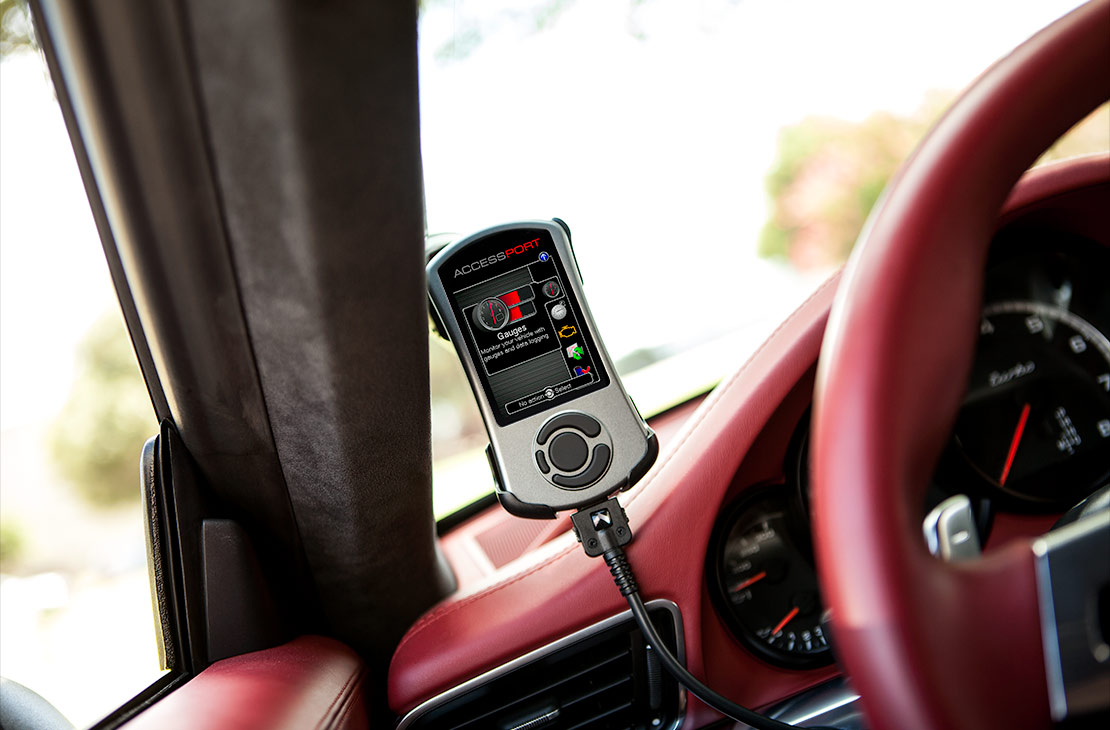 Interchangeable faceplates...
Is it your Accessport or our Accessport? It's yours. Customize it as you see fit. The new V3 comes with 2 interchangeable bezels, blue and grey, or put your own touches on one. Our favorite is the chrome one installed in our GT-R.
---
Porsche 996 Turbo Accessport V3 Features
| | | |
| --- | --- | --- |
| Simple Installation: Everything is included for the simple installation! Intuitive on-screen instructions identify your exact vehicle and available maps. | Simple Uninstall: Revert your ECU to exactly as it was before with the easy to use Uninstall option from the main menu. | Trouble Codes: Read engine trouble codes to diagnose issues. Clear them when resolved. Prevent expensive trips to the dealership. |
| Change Maps: Store up to 100 maps from our OTS map database or from your favorite COBB tuner and quickly switch between them for any need. | Gauges: Use your Accessport as a gauge to monitor boost or any other live information, directly from the ECU. | Data Logging: Record multiple data channels simultaneously for in-depth evaluation of engine performance. Stores up to 10 hours. |
| Performance Measuring: Welcome to your own performance evaluation suite! Measure 0-60 mph time, 60 foot and ¼ mile ET's. and Trap Speed. | Shift Light: Set custom RPM warning lights for perfect shifts every time. | AP Manager: Use your PC or Mac to manage maps, download recorded datalogs, or quickly update your Accessport. Download free from right HERE. |
---
About The Intake
Fabspeed has developed this intake kit to use the fan and snorkal to their advantage, force feeding the intake, actually increasing the boost by 3/4 pounds. It is constructed out of C.N.C. air craft machined with T304 Stainless steel with a BMC air filter, while maintaining the stock mass air flow plastic sensor grate and location for maximum power and no Check Engine Light. Do not settle for and anything less then perfection in your Porsche 996TT and get your Fabspeed intake kit.
Description:
All 996TT/X50/GT2 Vehicles 1998-2005
+20.5 HP and +21.7 ft. Lbs of torque
3/4 LB extra boost with no other changes. Allows unobstructed airflow to the twin turbo engine for MAXIMUM POWER.
COLD AIR is force fed to the engine's air filter by the STOCK fan and snorkel.
Easy to install and saves weight. C.N.C. air craft machined with T304 Stainless steel drip edge.
Retains stock MASS AIRFLOW plastic sensor grate and location for maximum power and no Check Engine Light.
More sports car sound and you can hear the TURBOS and intake working so you have a more EXOTIC sound!
Fitment
All 996TT/X50/GT2 Vehicles 1998-2005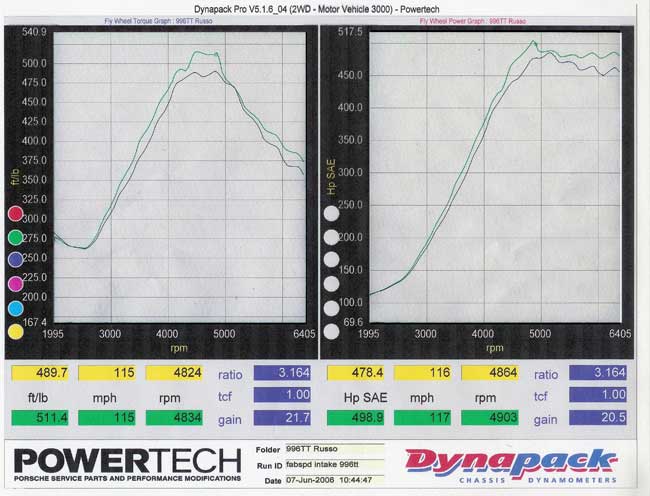 About The Exhaust

Throughout the entire Porsche 996TT/GT2 Performance Exhaust's R&D process, AWE Tuning has taken extra steps to produce a no compromise exhaust muffler. The result? Perfect tone, even at part throttle between 2000 and 2800 RPM.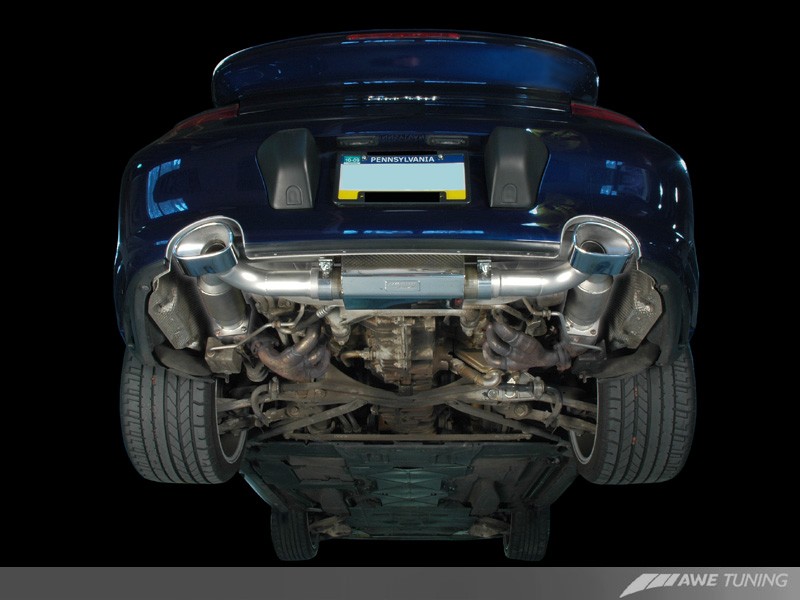 Benefits
Max Gains of 30hp and 29tq / Peak Gains of 28hp and 14tq
Fits 996TT and GT2 models
High Flow Cat and Test Pipe versions available
European Car magazine Select Gear winner!
304 Stainless Steel Construction
Specifically Designed To Prevent Drone
Awesome ""War Cry Wail"" Under WOT
Unique to the AWE Tuning Porsche 996TT/GT2 Performance Exhaust is that our design incorporates German HJS 200 cell per square inch metal substrate catalytic converters, to ensure long term emission compliance and no check engine lights. The use of premium 200 cell per square inch cats produced less than 1 psi of additional backpressure when compared to the optional AWE Tuning 996TT/GT2 Test Pipes. As with all AWE Tuning exhaust products, each TIG weld is hand finished internally, only butt-welded junctions are used, and flange openings are size matched to their ports, all to produce the smoothest flow possible. It is this intensive attention to detail that sets AWE Tuning exhaust products heads and shoulders above the rest.

Each AWE Tuning Porsche 996TT/GT2 Performance Exhaust features an O2 sensor, threaded bung before the driver side catalytic converter for quick and easy installation of a wide band air/fuel sensor. Each system also comes complete with new hanging straps, exhaust nuts, and all gaskets to ensure a perfect, leak free install.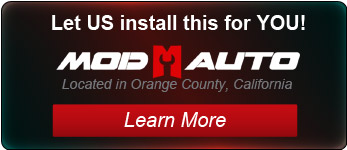 ---
If you have any questions about this Cobb Stage 2 Performance Package for the Porsche 996 Turbo? Give us a call today at 714-582-3330
---
Mod Category:
Performance
Mod Category:
Intake
Mod Category:
Exhaust