Key Features

2.5"" wider fenders on each side (5"" wider total)
Allows for 10"" wide wheels up front (10.5"" max)
Includes 5 pieces (Front bumper, 2 front fenders, 2 side skirts)
Available in 3 materials
Compression type plug molds used for production
Includes all hardware needed
100% reversible
Does NOT alter the factory panels
Allows for improved handling


(FRP shown)
Applications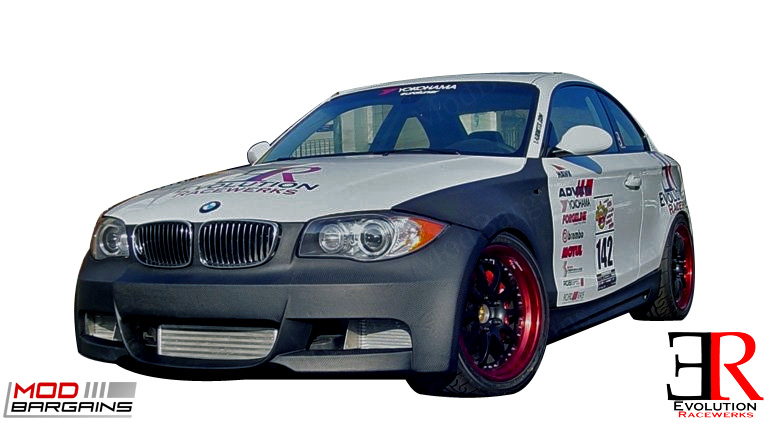 Looking for the ultimate exterior upgrade for your 1-Series coupe? The Evolution Racewerks Front End Widebody Kit is sure to turn heads, and increase the handling potential of your vehicle exponentially. The widebody kit is 2.5"" wider than stock on each side, for a total of 5"" of increased track width, easily accommodating 10"" wide wheels up front. No body modifications are required to install the widebody making this kit 100% reversible. The Evolution Racewerks Widebody kit is available three materials; fiberglass (FRP), wet carbon fiber, and ultra-lightweight dry vacuum carbon fiber.
| | |
| --- | --- |
| | NOTE: Like all Carbon Fiber and FRP products on the market, this product must be test fitted & prepped before installing it. Often, slight modifications are required such as trimming, sanding, filing, or smoothing the surface in order to get best fitment and appearance. This is NOT an OEM product, fitment will NOT always be perfect straight out of the box. We recommend having this product installed by a company that has experience working with AFTERMARKET body kit pieces, not a standard collision repair center that only works on insurance claims. Images below show an accurate representation of THIS PRODUCT, properly installed by a professional installer. We also install this product at our own installation facility in southern California. |
Apart from improving the appearance of your 1-Series the widebody kit will also allow for improved handling. Through testing and development on Evolution Racewerk's own racecar they discovered the 135i had a tendency to oversteer when pushed to the limit. They determined the cause of this to be the small stock tires on the front of the vehicle (215/40/18). To solve these handling issues on their racecar they built the widebody kit. Running a square wheel setup (18x10"" wheels all-around with 285/30/18 tires) the car now exhibits neutral handling characteristics, with understeer virtually eliminated. Evoultion Racewerks noted that with the main issue of the traction up front taken care of modifications to the suspension such as thicker sway bars, spring/shock stiffness were more drastic, allowing the car to show its true handling potential.
Many will ask, why is there only a wide body kit for front available. The main reason is simply for function over appearance. By increasing the width of the rear a bigger wheel and tire setup would be needed, this in turn would decrease the handling capabilities of the vehicle. At the moment Evolution Racewerk's racecar has 400 horsepower, and currently has enough rear traction to handle that power.
Materials Available
The Widebody Kit is available in 3 different composites. The Fiberglass Reinforced Plastic (FRP) is the most economical of all the versions. It has a gel coated and then pre-primered for paint. Next up is the wet carbon fiber which traditionally is the process which all carbon fiber hoods and body kits are built. It is produced the same way as FRP except with carbon fiber sheets instead of fiberglass sheets. It is slightly lighter than the FRP. It comes gloss clear coated to show off the exposed carbon fiber weaves. Last, is our dry vacuum carbon fiber, which is lighter and stronger than the traditional wet carbon fiber. Resin is used to glue the layers of composite together and is heavy and brittle. The part is put into vacuum which pulls all the excess resin from the part. This allows the bare minimum of resin needed, making these parts super lightweight and strong. Below are the weight of all the composite parts versus the prototype part (which is modified OEM parts).
| | | | | |
| --- | --- | --- | --- | --- |
| | OEM prototype | Fiberglass | Wet Carbon Fiber | Dry Vacuum Carbon Fiber |
| Front Bumper | 17 lbs | 14 lbs | 12 lbs | 7 lbs |
| Front Fender (each) | 9 lbs | 4 lbs | 4 lbs | 2 lbs |
| Side Skirts (each) | 7 lbs | 5 lbs | 5 lbs | 3 lbs |
| Total | 49 lbs | 32 lbs | 30 lbs | 17 lbs |
Installation
The Evolution Racewerks Widebody kit is 100% bolt on. The kit can be be installed with basic hand tools at home, and does not require a professional body shop.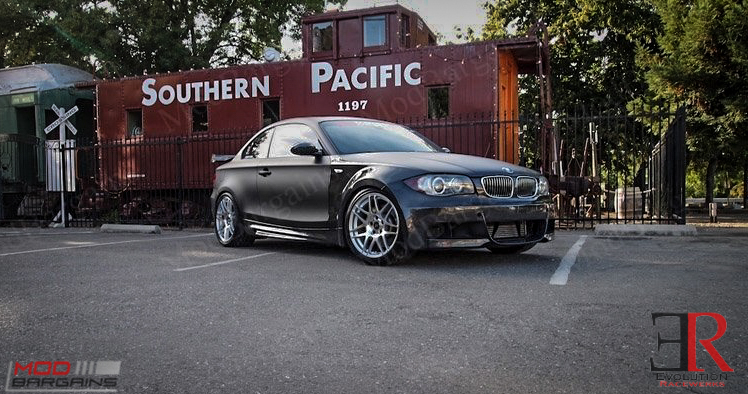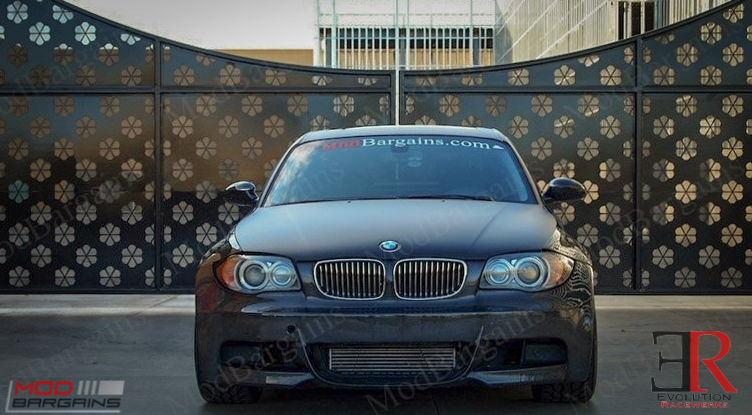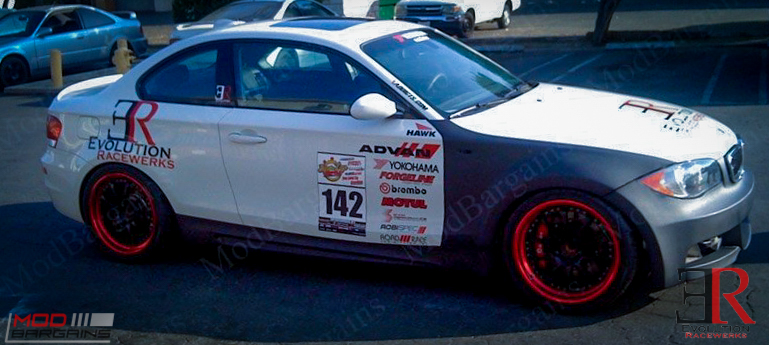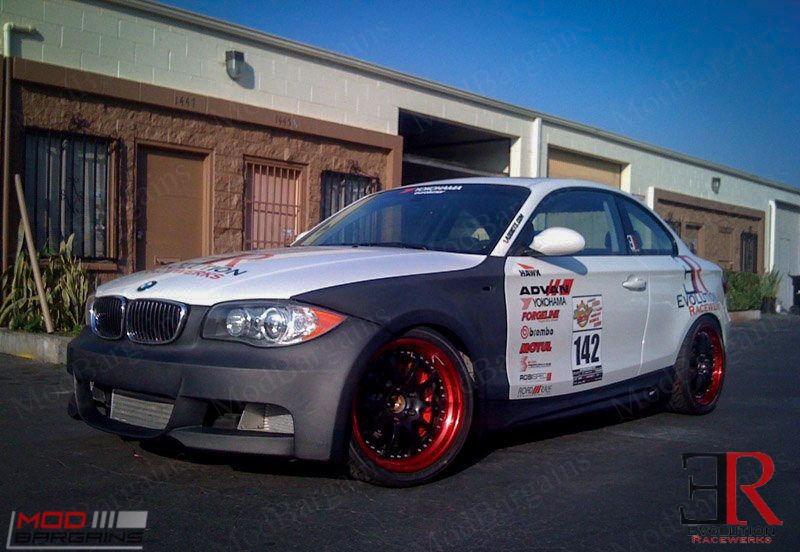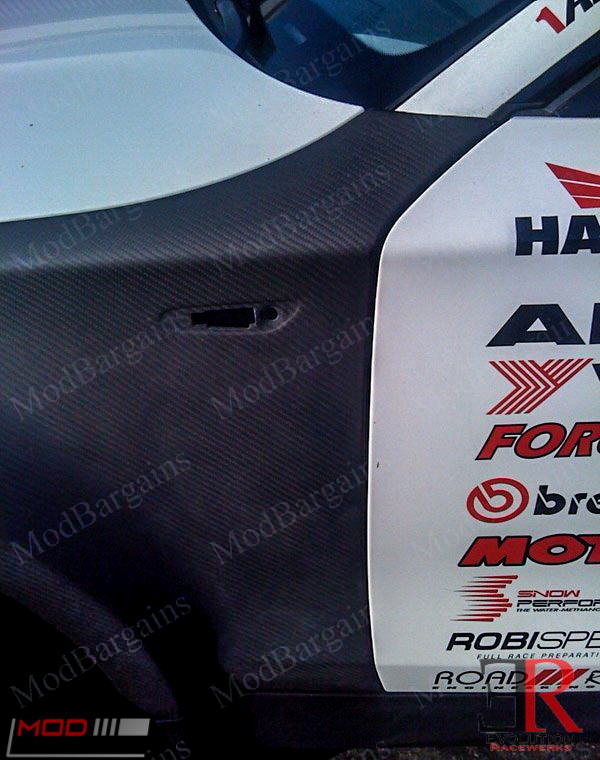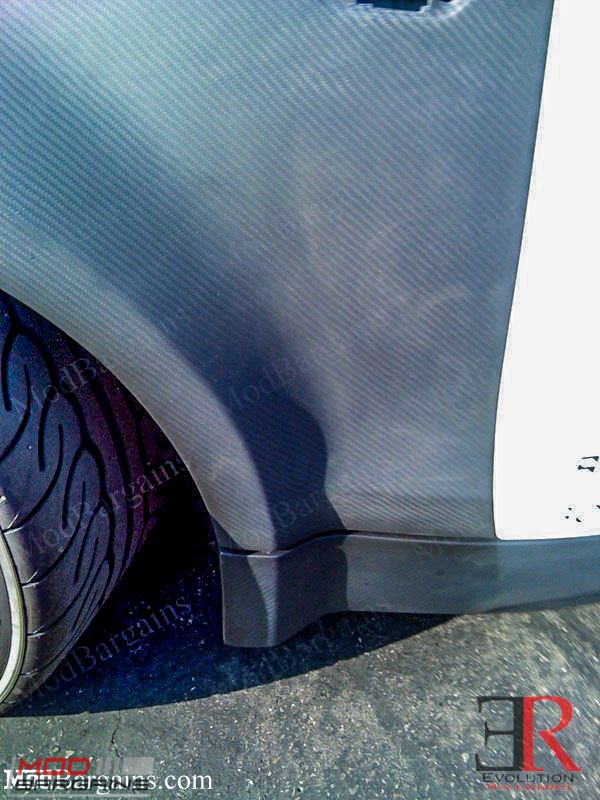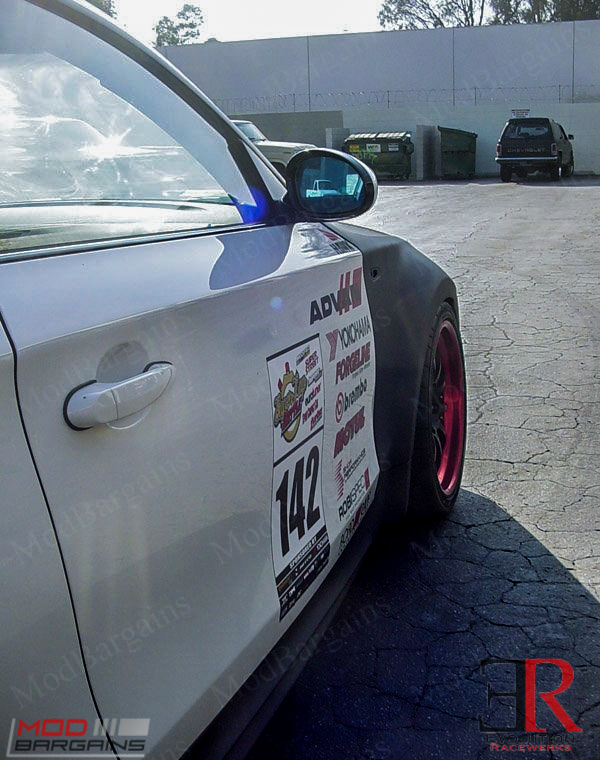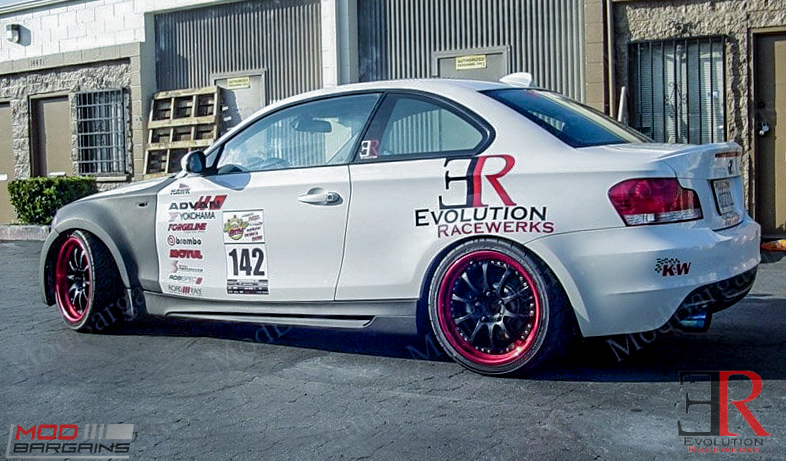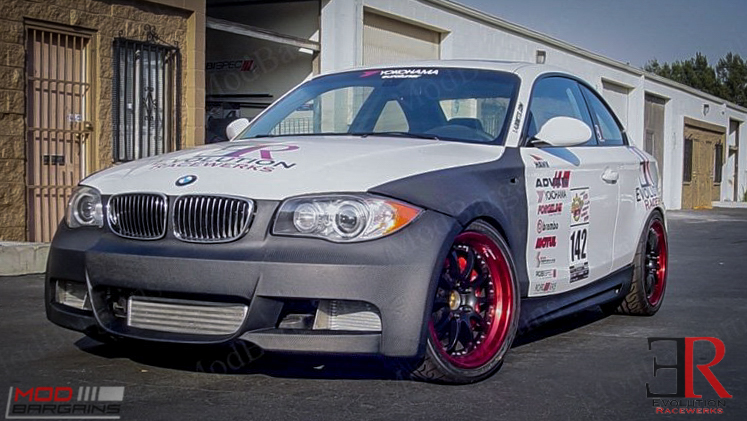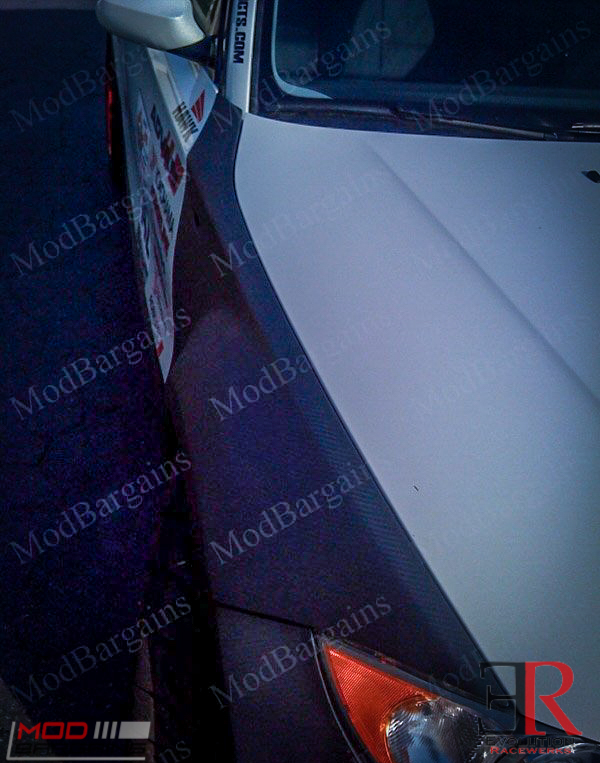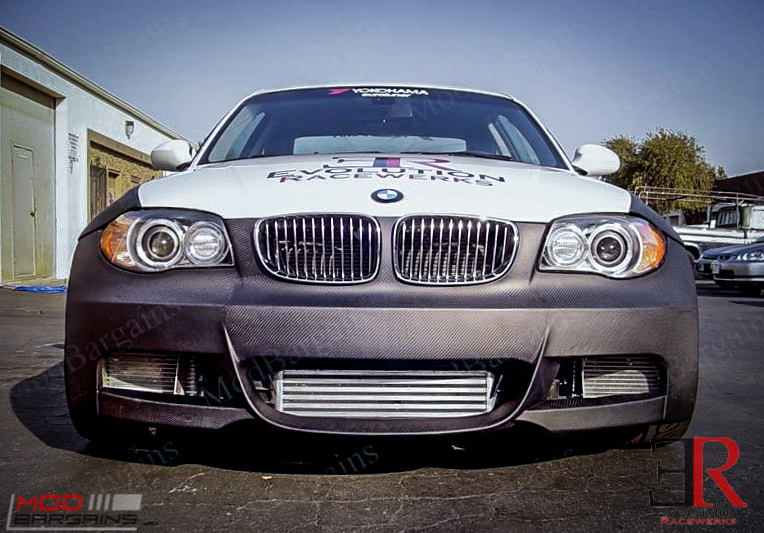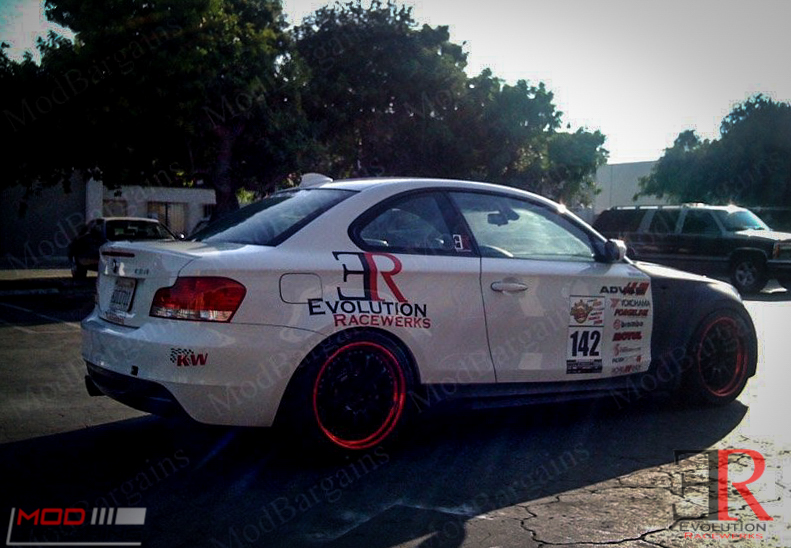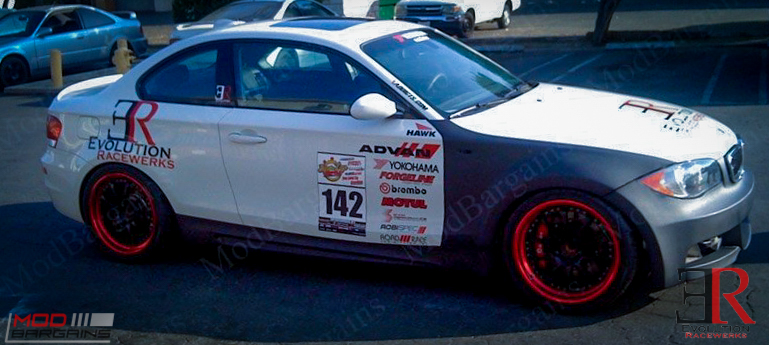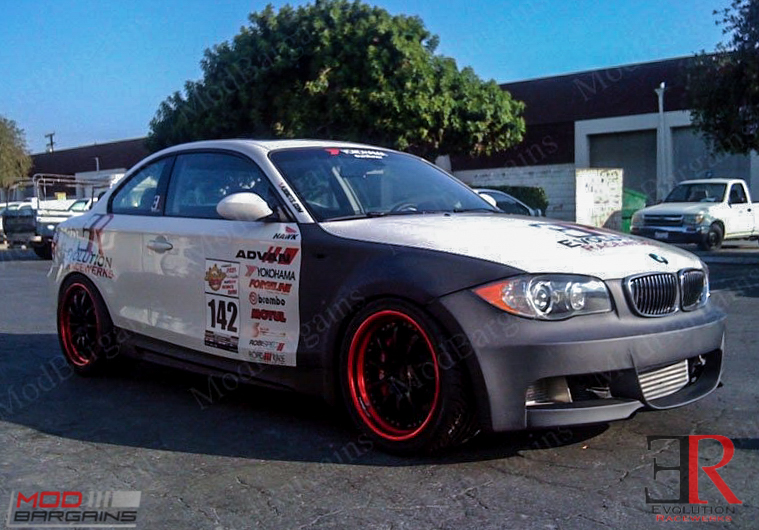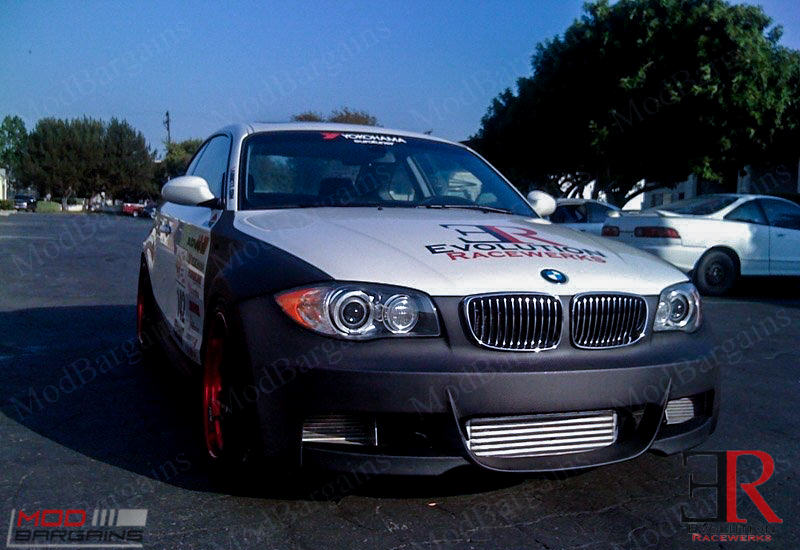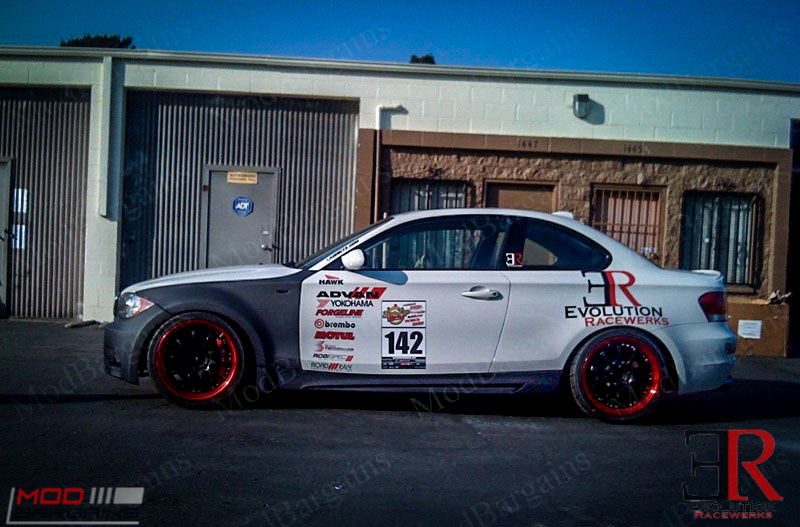 Mod Category:
Exterior